ORGANIZATIONAL STRUCTURE
CANAL PLACE PRESERVATION & DEVELOPMENT AUTHORITY
---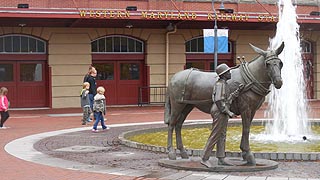 Appointed by Governor with Senate advice & consent to 4-year terms:
Janice S. Keene, Chair (chosen by Governor), 2024
Jeremy F. Bender, 2022; Bradford S. Nixon, Esq., 2022; Rebecca L. Ruppert, 2023; J. Robert Smith, 2023; Stuart C. Czapski, 2025.

Representatives: Albert L. Feldstein, Maryland Historical Trust; Tina Capetta, National Park Service, U.S. Dept. of the Interior; Raymond M. Morris, City of Cumberland.

Canal Place Heritage Area, C&O Canal National Historical Park, 13 Canal St., Cumberland, Maryland, October 2015. Photo by Diane F. Evartt.

---
---
Search the Manual
e-mail: mdmanual@maryland.gov