GOVERNOR'S GRANTS OFFICE
---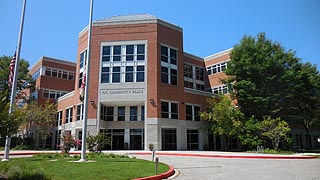 Jennifer M. Colton, Director (410) 697-9648; e-mail: jennifer.colton@maryland.gov
Shannon Dillard, Deputy Director (410) 967-9649; e-mail: shannon.dillard@maryland.gov


100 Community Place, Crownsville, MD 21032
(410) 697-9649
e-mail: maryland.grants@maryland.gov
web: www.grants.maryland.gov

100 Community Place, Crownsville, Maryland, July 2016. Photo by Diane F. Evartt.

---
---
On February 1, 2004, the Governor's Grants Office was established by the Governor. In April 2017, it was placed under the Governor's Washington Office.

The Office coordinates State agency activities in applying for and managing federal grants. It trains and provides technical assistance to State and local government agencies and nonprofit organizations in grant-writing and identifying federal grant opportunities; and measures, tracks, and disseminates federal funding data. In addition, the Office offers an annual report, an e-newsletter, State grant announcements, conferences, and webinar training.
---
Search the Manual
e-mail: mdmanual@maryland.gov
© Copyright March 14, 2022 Maryland State Archives