DIRECTOR
---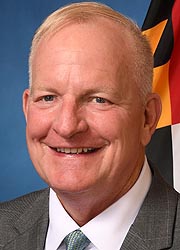 WALTER F. (PETE) LANDON, Director
---
Director, Governor's Office of Homeland Security, 2015-. Coordinator, Emergency Management Advisory Council, 2015-. Member, Maryland Active Assailant Interdisciplinary Work Group, 2015-; Criminal Justice Information Advisory Board, 2015-; Maryland Cybersecurity Council, 2015-; Council on Open Data, 2015-; Statewide Interoperability Radio Control Board, 2015-; National Capital Region Emergency Preparedness Council, Metropolitan Washington Council of Governments, 2016-; Maryland Cybersecurity Coordinating Council, 2019-.

Member, Governors Homeland Security Advisors Council, 2015- (executive committee), National Governors Association. Member, Association of State and Territorial Health Officials, 2016- (tri-chair, joint policy work group), National Emergency Management Association.

Deputy Chief of Staff, Office of Governor, since October 2017. Responsible for oversight of two departments: State Police, and Public Safety and Correctional Services, as well as Maryland Emergency Management Agency, Military Department, Opioid Operational Command Center, Maryland Center for School Safety, and Governor's Office of Crime Control and Prevention.

Member, Board of Elections, Kent County, 2015.

Maryland State Trooper, beginning 1985; Commander, Special Operations Division, 2005-07; Commander, Special Operations and Transportation Safety Command, 2007-10; Chief, Field Operations Bureau, 2010-12, Department of State Police. Lt. Colonel, Maryland State Police, 2010-15.

Member, Task Force on School Safety, 2006-07.

Born in Pittsburgh, Pennsylvania, December 21, 1961. Attended Beaconsfield High School, Beaconsfield, Quebec, 1978; Chesapeake College, A.A. (law enforcement), 1980; Towson University, B.S. (criminal justice & liberal arts), 1984; Maryland State Police Trooper Candidate Academy, 1985. Member, Criminal Justice Advisory Board, Chesapeake College; International Chiefs of Police Asssociation; International Narcotic Enforcement Officers Association; Maryland Troopers Association; Maryland Chiefs of Police Association. Member, Governors Homeland Security Advisors Council, National Governors Association, 2015-. Board of Directors, Chesapeake College Foundation. Member, Chestertown Optimists Club, 1990-; Chester River Yacht and Country Club (commodore, 2004-06; board of directors, 2007-13; president, 2010-13); Fraternal Order of Elks, Chestertown. Barrack Trooper of the Year, 1988. Award of Merit, Maryland Law Enforcement Officers' Association, 1993. Superintendent's Salute, Maryland State Police, 1997. Pride of the Peake Alumni Award, Chesapeake College, 2011.
---
© Copyright October 07, 2019 Maryland State Archives