GOVERNOR'S OFFICE OF HOMELAND SECURITY
---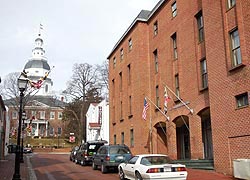 Adam R. Flasch, Director

Fred L. Wineland Building, 16 Francis St., Annapolis, MD 21401
(410) 974-2678
web: http://gohs.maryland.gov/


Wineland Building (State House in background), 16 Francis St., Annapolis, Maryland, February 2014. Photo by Diane F. Evartt.

---
---
Draft Cybersecurity Plan to Governor due May 31, 2018 (Executive Order 01.01.2017.22)
---
In July 2003, the Governor's Office of Homeland Security formed within the Executive Department (Executive Order 01.01.2003.18).
The Office coordinates and directs State homeland security efforts; advises the Governor on such issues; and continually assesses Maryland's readiness and ability to prepare for, prevent, and respond to disasters and emergencies, including terrorist attacks.
To avoid duplication of effort and resources, the Office coordinates efforts to secure and allocate federal funds for State and local homeland security. Moreover, the Office works with the Anti-Terrorism Advisory Council of Maryland, directed by the U.S. Attorney for the District of Maryland, and the Maryland Coordination and Analysis Center, a collaborative effort of federal, State and local agencies. The Office further serves as State liaison to the White House Office of Homeland Security and the U.S. Department of Homeland Security.
In October 2017, the responsibility to maintain, improve, and implement a cybersecurity plan for State Government was delegated to the Director of Homeland Security (Executive Order 01.01.2017.22; Code Public Safety Article, sec. 14-106). The Director of Homeland Security coordinates this work with and consults with State Government units and agencies; and, as necessary, consults with the private sector and academia regarding this work. The Director considers and may incorporate, where appropriate, recommendations made in the Activities Reports of the Maryland Cybersecurity Council, and in the Cyber Disruption Contingency Plan (April 2017) of the Department of Information Technology and the Maryland Emergency Management Agency.
Maryland Constitutional Offices & Agencies
Maryland Departments
Maryland Independent Agencies
Maryland Executive Commissions, Committees, Task Forces, Advisory Boards
Maryland Universities & Colleges
Maryland Counties
Maryland Municipalities
Maryland at a Glance
---
Search the Manual
e-mail: mdmanual@maryland.gov
© Copyright May 05, 2023 Maryland State Archives