Maryland State Exercise - Walking
When Maryland designated walking as the State Exercise on October 1, 2008, it became the first state in the nation to name a state exercise (Chapters 400 & 401, Acts of 2008; Code General Provisions Article, sec. 7-328).
---
The health benefits of walking or hiking include improved cardiovascular fitness, reduced risk of developing high blood pressure, and prevention of heart attacks, colon and breast cancer, and osteoporosis. Physical activity also elevates mood and reduces anxiety. The U.S. Surgeon General recommends that all Americans walk at least 30 minutes per day, five days a week.

Hikes are long walks through a natural environment, such as following a trail through the woods. Aside from the physical benefits of losing weight, hiking also may improve mental health, lowering stress levels.

Walker with seven dogs, Patterson Park, Baltimore, Maryland, March 2019. Photo by Diane F. Evartt.

---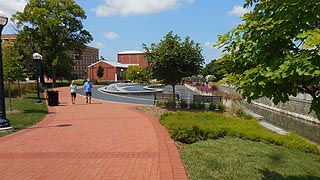 Throughout Maryland's forests and parks, are many hiking trails over different terrain. The Appalachian Trail extends around 40 miles along South Mountain in Washington County. The Chesapeake & Ohio (C&O) Canal towpath extends nearly 185 miles from Georgetown, Washington, DC, to Cumberland, Allegany County. Popular hiking trails also are found around Loch Raven Reservoir in Baltimore County, along Calvert Cliffs in Calvert County, and through Gunpowder Falls State Park in Baltimore and Harford counties. Baltimore City offers several hiking trail options, including the Gwynns Falls Trail and the Stony Run Trail, as well as trails throughout the grounds of Cylburn Arboretum.

Walkers at Carroll Creek Park, Frederick, Maryland, August 2018. Photo by Diane F. Evartt.

---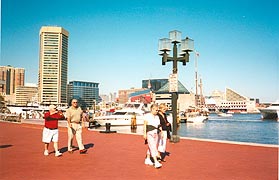 A walking program may include using a treadmill, or walking outside at an average speed of 3 to 4 miles per hour. To minimize the risk of injury, it is important to warm up and stretch muscles before each session, wear good walking shoes, remain hydrated, and cool down before finishing.

Many Marylanders belong to clubs which sponsor walking events throughout the year. The Maryland Volkssport Association, for example, conducts events which are noncompetitive and family-friendly.


People strolling at Inner Harbor, Baltimore, Maryland, October 2008. Photo by Diane F. Evartt.

---
Formerly sponsored by the Maryland Transportation Authority, the annual Chesapeake Bay Bridge Walk started in May 1975, and was last held in 2006. The 4.5 mile walk went from Stevensville in Queen Anne's County on the Eastern Shore to Sandy Point State Park in Anne Arundel County on the Western Shore.

The successor to the Chesapeake Bay Bridge Walk is the annual Chesapeake Bay Bridge Run/Walk, which started in November 2014. The sixth largest 10K in the United States, it next will be held on November 13, 2022.
---
Search the Manual
e-mail: mdmanual@maryland.gov
© Copyright May 04, 2022 Maryland State Archives