VETERANS
---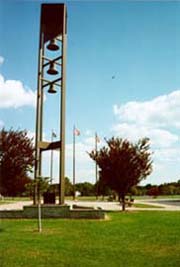 For Maryland veterans, the Department of Veterans Affairs provides information and assistance so that veterans receive all the benefits they have earned. While federal benefits include health care, education, home loans, and vocational rehabilitation, Maryland provides additional benefits, such as educational grants and scholarships, reduced fees and tax credits, business loans, veterans homes, and hunting and fishing privileges. Also, through the Maryland Veterans Trust Fund, the Maryland Veterans Trust provides monetary and other assistance to both veterans and their families, and to programs that support them. Moreover, as part of the Maryland Higher Education Commission, Veterans Affairs promotes and safeguards quality education and training programs for all veterans.

Concerns about veterans affairs also are addressed by the General Assembly through the Senate Education, Health and Environmental Affairs Committee, and the Maryland Veterans Caucus.


Carillon, Crownsville State Veterans Cemetery, 1122 Sunrise Beach Road, Crownsville, Maryland, October 2000. Photo by Diane F. Evartt.

---
In Fiscal Year 2020, some 384,662 veterans were living in Maryland, 7% of the population.

The Service Program of the State's Department of Veterans Affairs submitted 4,170 disability compensation and pension claims to the federal Department of Veterans Affairs in Fiscal Year 2020 on behalf of Maryland veterans, who received nearly $32 million in monthly cash benefits. In the same period, Maryland's veterans and their dependents received $138,538 from the Maryland Veterans Trust Fund, and the Department's Cemetery and Memorial Program conducted 3,159 burial services in Maryland's five veterans' cemeteries.

To help veterans, the Maryland Veterans Service Animal Program provides grants to organizations that match qualified veterans with service dogs. In Fiscal Year 2020, $25,000 was split between two groups, Hero Dogs and Warrior Canine Connection. Two horse therapy organizations, Maryland Therapeutic Riding and Bridges at Worthmore, also applied to the Program.
---
Fred L. Wineland Building*, 16 Francis St., 4th floor, Annapolis, MD 21401
(410) 260-3838; 1-866-793-1577 (toll free); fax: (410) 216-7928
e-mail: mdveteransinfo@maryland.gov
web: http://veterans.maryland.gov/
(*note: no veteran benefits specialists at 16 Francis St.; contact service program at 1-800-446-4926, ext. 6450 (toll free), to meet with service officer or for paperwork signed by U.S. Dept .of Veterans Affairs)

Joint Force Headquarters
5th Regiment Armory, 29th Division St., Baltimore, MD 21201
410-576-6000
web: http://military.maryland.gov/NG/Pages/default.aspx
MILITARY HEALTH SYSTEM
(within U.S. Department of Defense)
1400 Defense Pentagon, Washington, DC 20301 - 1400
web: https://health.mil/
U.S. DEPARTMENT OF VETERANS AFFAIRS
810 Vermont Ave., NW, Washington, DC 20420
1-800-827-1000 (benefits)
1-877-273-8255 (crisis line, press "1")
1-877-222-VETS (8387) (health care)
1-800-488-8244 (inspector general)
web: www.va.gov/
---
© Copyright July 19, 2021 Maryland State Archives