Maryland State Drink - Milk
---
In 1998, milk was designated the State drink of Maryland (Chapter 220, Acts of 1998; Code General Provisions Article, sec. 7-314).

Found primarily in Frederick and Washington counties, most Maryland milk cows are Holsteins and can be recognized by their large black and white spots. As of January 1, 2018, Maryland had some 47,000 milk cows throughout the State.


Grazing cows, U.S. Naval Academy Dairy Farm, Gambrills, Maryland, June 1999. Photo by Diane P. Frese.

---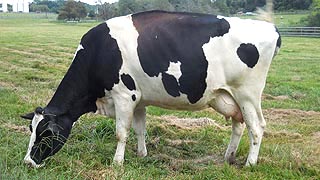 Daily, a single cow can produce up to 8 gallons of milk, consume about 80 pounds of feed, and drink 30 to 40 gallons of water. Annually, each cow can produce an average of 19,854 pounds of milk. Milked twice a day, Maryland cows produced 953 million pounds of milk in 2017. Frederick County produces one-third of Maryland's milk.




Milk Cow, Kinder Farm Park, Millersville, Maryland, August 2019. Photo by Diane F. Evartt.

---
---
© Copyright September 10, 2019 Maryland State Archives