RADIO
---
Public Radio

WYPR, 2216 North Charles St., Baltimore, Maryland, April 2007. Photo by Diane F. Evartt.

---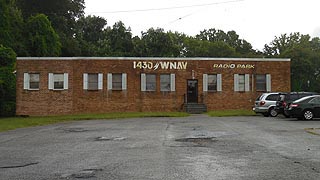 Efficient ways to communicate messages quickly over great distances evolved over the years from signal fires, to flagmen in towers, and to more mechanized towers using wooden arms. In England by 1838, studies in electricity and communication merged, enabling the first telegraph design to use electricity for sending messages through wires over many miles. Thereafter, Samuel Morse created a faster, and much simpler, and accessable telegraph, as well as a translation code that would become international. Maryland was at the forefront of this new technology, and the first American commercial telegraph linked Baltimore and Washington, DC, in 1844.

WNAV Radio Station, 236 Admiral Drive, Annapolis, Maryland, September 2015. Photo by Diane F. Evartt.

---
As technology improved, radio towers replaced telegraph poles. The first radio stations served as emergency communication posts for government and, later, private companies, predominatly for the U.S. Navy and for nautical applications, such as shipping, and cruise lines. These early stations, however, were limited: the technology broadcast on all frequencies, and more powerful signals could effectively block less powerful ones. With further development frequencies were isolated, and frequency specific signals used. Thereafter, a commercial market opened, and the public literally could "tune-in" to radio.

Today, dozens of public and commercial radio stations operate in Maryland. Alongside them, hundreds of "ham" stations, run by amateurs (under Federal Communications Commission (FCC) guidelines), provide frequently needed emergency communications, which function when other systems fail. Among such ham operators are the W3ADO Amateur Radio Club at the U.S. Naval Academy, and the Anne Arundel Radio Club, based in Davidsonville.

Though primarily known for Maryland Public Television (MPT), the Maryland Public Broadcasting Commission also is authorized to develop radio programming (Code Education Article, sec. 24-205).
---
COMMERCIAL RADIO
AM FREQUENCIES

, Annapolis (Richard Dent)
820 am (WWFD), Frederick (Hubbard Broadcasting)
840 am (WKDI), Denton (Positive Alternative Radio, Inc.)
860 am (WFSI), Baltimore (Family Radio)
900 am (WACA), Laurel (Alejandro Carrasco)
930 am (WFMD), Frederick (Connoisseur Media)
950 am (WCTN), Potomac (Win Radio Broadcasting Corp.)
960 am (WTGM), Salisbury (iHeartMedia, Inc.)
970 am (WAMD), Aberdeen (Bill Parris)
1010 am (WOLB), Baltimore (Urban One)
1030 am (WWGB), Indian Head (Good Body Media, LLC)
1050 am (WMSG), Oakland (Broadcast Communications II, Inc.)
1090 am (WBAL), Baltimore (Hearst Communications)
1160 am (WMET), Gaithersburg (La Promesa Foundation)
1230 am (WRBS), Baltimore (WRBS-AM, LLC)
1230 am (WCMD), Cumberland (West Virginia Radio Corp.)
1240 am (WCEM), Cambridge (Draper Holdings Business Trust)
1240 am (WJEJ), Hagerstown (Hagerstown Broadcasting Company)
1270 am (WCBC), Cumberland (Cumberland Broadcasting Company)
1300 am (WJZ), Baltimore (Audacy, Inc.)
1320 am (WJKI), Salisbury (Edwin G. Andrade)
1330 am (WHGM), Havre De Grace (Steve Clendenin)
1370 am (WQLL), Pikesville (M-10 Broadcasting, Inc.)
1400 am (WWIN), Baltimore (Urban One)
1410 am (WHAG), Halfway (Alpha Media)
1430 am (WNAV), Annapolis (BSMC Media LLC)
1450 am (WTBO), Cumberland (Forever Media)
1450 am (WTHU), Thurmont (Christian Radio Coalition, Inc.)
1460 am (WKHZ), Easton (Radio Broadcast Communications, Inc.)
1470 am (WJDY), Salisbury (iHeartMedia, Inc.)
1470 am (WTTR), Westminster (Hilltop Communications, LLC)
1490 am (WARK), Hagerstown (Manning Broadcasting, Inc.)
1520 am (WTRI), Brunswick (Hasmukh Shah)
1530 am (WCTR), Chestertown (Hometown Multimedia, LLC)
1540 am (WDON), Wheaton (Renovacion Media Group)
1560 am (WKIK), La Plata (Somar Communications, Inc.)
1570 am (WNST), Towson (Nasty 1570 Sports, LLC)
1580 am (WJFK), Morningside (Audacy, Inc.)
1590 am (WFBR), Glen Burnie (Way Broadcasting Licensee, LLC)
1600 am (WLXE), Rockville (Multicultural Broadcasting)
1690 am (WPTX), Lexington Park (Somar Communications, Inc.)

FM FREQUENCIES
90.3 fm (WAIJ), Grantsville (American Family Association)
90.3 fm (WDIH), Salisbury (Salisbury Educational Broadcasting Foundation)
92.3 fm (WERQ-FM), Baltimore (Urban One)
92.3 fm (WKTQ), Oakland (Broadcast Communications II, Inc.)
92.5 fm (WNKZ-FM), Pocomoke City (Bridge of Hope, Inc.)
93.1 fm (WPOC), Baltimore (iHeartMedia, Inc.)
93.5 fm (WWEG), Frederick (Manning Broadcasting, Inc.)
94.3 fm (WINX-FM), St. Michaels (Forever Media)
94.7 fm (WIAD), Bethesda (Audacy, Inc.)
94.9 fm (WKHI), Newark (Voice Radio Network)
95.1 fm (WRBS-FM), Baltimore (Peter & John Radio Fellowship, Inc.)
95.5 fm (WPGC-FM), Morningside (Audacy, Inc.)
95.9 fm (WWIN-FM), Glen Burnie (Urban One)
95.9 fm (WKTZ-FM), Loch Lynn Heights (Broadcast Communications, Inc.)
95.9 fm (WKZP), West Ocean City (iHeartMedia, Inc.)
95.9 fm (WICL), Williamsport (West Virginia Radio Corp.)
96.3 am (WHAG), Halfway (Alpha Media)
96.7 fm (WCEI-FM), Easton (Forever Media)
96.7 fm (WDLD), Halfway (Alpha Media)
97.1 fm (WLIC), Frostburg (Calvary Chapel Cumberland)
97.1 fm (WAVD), Ocean Pines (Forever Media)
97.5 fm (WKTT), Salisbury (Rojo Broadcasting, LLC)
97.7 fm (WMDM), Lexington Park (Somar Communications, Inc.)
97.9 fm (WIYY), Baltimore (Hearst Communications)
97.9 fm (WBEY-FM), Crisfield (GSB Media, LLC)
97.9 fm (WTBO), Cumberland (Forever Media)
98.3 fm (WSMD-FM), Mechanicsville (Somar Communications, Inc.)
98.9 fm (WSBY-FM), Salisbury (iHeartMedia, Inc.)
98.9 fm (WARK), Hagerstown (Manning Broadcasting, Inc.)
99.1 fm (WDCH-FM), Bowie (Audacy, Inc.)
99.9 fm (WFRE), Frederick (Connoisseur Media)
99.9 fm (WWFG), Ocean City (iHeartMedia, Inc.)
100.5 fm (WKDI), Denton (Positive Alternative Radio, Inc.)
100.5 fm (WHGM), Havre De Grace (Steve Clendenin)
100.5 fm (WWEG), Hagerstown (Manning Broadcasting, Inc.)
100.7 fm (WZBA), Westminster (Times-Shamrock Communications)
100.9 fm (WAAI), Hurlock (Draper Holdings Business Trust)
101.1 fm (WICO-FM), Snow Hill (A. Wray Fitch & Greg Bojko)
101.1 fm (WWPN), Westernport (Santmyire Broadcasting)
101.5 fm (WBAL), Baltimore (Hearst Communications)
101.9 fm (WLIF), Baltimore (Audacy, Inc.)
102.1 fm (WWEG), Hagerstown (Manning Broadcasting, Inc.)
102.3 fm (WMMJ), Bethesda (Urban One)
102.3 fm (WTTR), Westminster (Hilltop Communications, LLC)
102.5 fm (WBOC-FM), Princess Anne (Draper Holdings Business Trust)
102.7 fm (WQSR), Baltimore (iHeartMedia, Inc.)
102.9 fm (WKIK-FM), California (Somar Communications, Inc.)
103.1 fm (WRNR-FM), Grasonville (Empire Broadcasting System)
103.1 fm (WAFY), Middletown (Manning Broadcasting, Inc.)
103.7 fm (WXCY-FM), Havre de Grace (Forever Media)
103.9 fm (WRDE-FM), Berlin (Draper Holdings Business Trust)
104.1 fm (WPRS-FM), Waldorf (Urban One)
104.3 fm (WZFT), Baltimore (iHeartMedia, Inc.)
104.5 fm (WKHJ), Mountain Lake Park (Broadcast Communications, Inc.)
104.7 fm (WAYZ), Hagerstown (M. Belmont Verstandig, Inc.)
104.7 fm (WHGM), Havre De Grace (Steve Clendenin)
104.7 fm (WQHQ), Ocean City-Salisbury (iHeartMedia, Inc.)
104.9 fm (WWMX-HD2), Baltimore (Audacy, Inc.)
105.3 fm (WFRB-FM), Frostburg (Forever Media)
105.5 fm (WLSW), Salisbury (Educational Media Foundation)
105.7 fm (WJZ-FM), Catonsville (Audacy, Inc.)
106.1 fm (WRQE), Cumberland (Forever Media)
106.1 fm (WBBX), Pocomoke City (Vinco Media, LLC)
106.3 fm (WARK), Frederick (Manning Broadcasting, Inc.)
106.3 fm (WCEM-FM), Cambridge (Draper Holdings Business Trust)
106.5 fm (WWMX), Baltimore (Audacy, Inc.)
106.7 fm (WFRB), Frostburg (Forever Media)
106.9 fm (WCTR), Chestertown (Hometown Multimedia, LLC)
106.9 fm (WWEG), Myersville (Manning Broadcasting, Inc.)
107.1 fm (WTDK), Federalsburg (Draper Holdings Business Trust)
107.5 fm (WHGM), Havre De Grace (Steve Clendenin)
107.7 fm (WGBG-FM), Fruitland (Draper Holdings Business Trust)
107.9 fm (WLZL), College Park (Audacy, Inc.)
107.9 fm (WFSI), Baltimore (Family Radio)
PUBLIC RADIO
88.1 fm (WYPR), Baltimore (Your Public Radio Corp.)
88.1 fm (WMUC-FM), College Park (University of Maryland)
88.1 fm (WYPF) Frederick (Your Public Radio Corp.)
88.9 fm (WEAA), Baltimore (Morgan State College)
89.5 fm (WSCL), Salisbury (Salisbury University)
89.7 fm (WTMD), Towson (Your Public Radio Corp.)
89.9 fm (WOEL-FM), Elkton (Maranatha Bible Institute, Inc.)
89.9 fm (WMTB-FM), Emmitsburg (Mount St. Maryís University)
90.5 fm (WCRH), Hagerstown (Cedar Ridge Ministries)
90.5 fm (WKHS), Worton (Kent County Public Schools)
90.7 fm (WSCL), Salisbury (Salisbury University)
91.1 fm (WHFC), Bel Air (Harford Community College)
91.3 fm (WESM), Princess Anne (University of Maryland, Eastern Shore)
91.5 fm (WBJC), Baltimore (Baltimore City Community College)
91.9 fm (WFWM), Frostburg (Frostburg State University)
91.9 fm (WGTS), Takoma Park (Atlantic Gateway Communications, Inc.)
93.5 fm (WTTZ-LP), Baltimore (Maryland Transit Administration)
96.3 fm (WXSU-LP), Salisbury (Salisbury University)
102.1 fm (WMJS-LP), Prince Frederick (St. Paulís Episcopal Church)
106.9 fm (WYPO), Ocean City (Your Public Radio Corp.)
107.3 fm (WMVK-LP)
, Perryville (Maryland Transit Administration)
107.9 fm (WEES-LP), Ocean City (Edinboro Early School, Inc.)
---
Search the Manual
e-mail: mdmanual@maryland.gov
© Copyright August 16, 2022 Maryland State Archives