LEGAL HOLIDAYS
---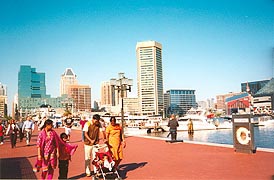 Maryland's legal holidays include each statewide general election day, and each other day that the President of the United States or the Governor designates for general cessation of business. If a holiday falls on a Sunday, it is observed the following Monday (Chapter 422, Acts of 1994; Code General Provisions Article, sec. 1-111).

Although holiday generally means "a day marked by a general suspension of work in commemoration of an event", in Maryland, this is not always the case.

Inner Harbor, Baltimore, Maryland, October 2008. Photo by Diane F. Evartt.

---
2022

January 17 (Monday)
Dr. Martin Luther King, Jr., Birthday (observed)
February 12 (Saturday)
Lincoln's Birthday
February 21 (third Monday)
Presidents' Day
March 25 (Friday)
Maryland Day
April 15 (Friday)
Good Friday
June 20 (Monday)
Juneteenth National Independence Day* (observed)
(Chapter 64, Acts of 2022)
May 30 (Monday)
Memorial Day
July 4 (Monday)
Independence Day
September 5 (first Monday)
Labor Day
September 12 (Monday)
Defenders' Day
October 10 (Monday)
Columbus Day (observed)
November 11 (Friday)
Veterans' Day
November 24 (fourth Thursday)
Thanksgiving Day
November 25 (fourth Friday)
American Indian Heritage Day
December 26 (Monday)
Christmas Day (holiday)
*If the U.S. Congress designates another day for observance, the day named by Congress becomes the legal date.
---
Search the Manual
e-mail: mdmanual@maryland.gov
© Copyright May 11, 2022 Maryland State Archives