Barbara A. Robinson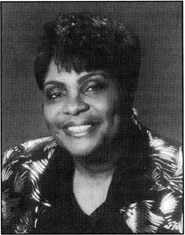 Barbara Robinson was born in Alexandria City, Alabama in June of 1938. She struggled to overcome tremendous hardships throughout her childhood. After completing high school, Barbara was fortunate to receive financial aid to attend college at a time when it was rare for African-Americans to receive such assistance. After just one year of college, the funding was depleted, and she was forced to search for employment. She went to work in local factories for several years, before finally securing a job with the Municipal Court filing tickets.
For Barbara this was only the beginning. Always aware of the racial discrimination that existed against her, for two decades she worked her way up, becoming the first woman and African-American to hold the positions of Chief of the Traffic Division of Baltimore, Deputy Administrator of the District Court, Deputy Administrator of the Supreme Bench, and Deputy Administrator of the Circuit Court. She continued to pursue her education and in 1975, eighteen years after she started college, she completed her B.S. Degree in Business Management from the University of Baltimore, the first of many degrees to come.
In 1985, Barbara resigned her position with the court and founded Strategies, Tactics, and Results, Associates Incorporated, known within the business community as STAR. From humble beginnings in the basement of her home, financed with an unemployment check, STAR is now nationally and internationally recognized for its role in providing human resources development and training programs and Employee Assistance Program services to local, state and federal government agencies, and the private sector.
In 1992, she published her first book And Still I Cry. Her second book, released in 1996, is entitled, Pursuing Your Passion; Things They Don't Tell You About Entrepreneurship and Being the Boss. For the past six years she has hosted a weekly radio talk-show she developed, Business Reachout Forum.
Having personally experienced the problems and negative impact of welfare-dependency, Barbara has devoted time and energy to develop job training and placement programs designed to reduce welfare dependency and move individuals into career paths that will provide a future for themselves and their families. Creating job opportunities that provide medical benefits further supports an individuals ability to remain off of welfare rolls. She is acknowledged to be a "trailblazer" in her gallant efforts to prevent drug and alcohol abuse. At one point, Barbara spent 6 years as a teacher in the prison system working with male inmates who were selling or using drugs.
Barbara has extended herself into many facets of the community and has founded or been a member of numerous organizations. Some of her activities include having taught at four different colleges, membership in the Alpha Kappa Alpha Sorority, membership in the Bethel AME Church, an elected member of the Board of Trustees of Bethel AME Church, a Board member of the William Smith Outreach Center, a member of the NAACP, co-founder of the Minority Women Business Owners Association, Employee Assistance Program Professionals, and the Maryland Coalition of Women for Responsive Government.
In 1987, the Mayor of Memphis, awarded the Key to the City to Barbara. In 1992, she was voted Business Woman of the Year by the Ujima Society, voted Woman of the Year by 100 Black Women, and she was awarded the 1995 Women of Enterprise Award, sponsored by Avon and the Small Business Administration. Barbara, the mother of four children, lives in Baltimore with her husband of more than thirty years.
---