Mary Digges Lee
1745-1805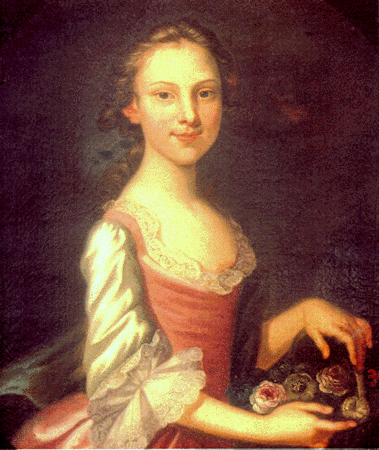 Mary Digges was born in Maryland in 1745, on her family's estate known as, "Mellwood Park," which is now located in Prince Georges county. The family estate was quite beautiful and received such distinquished guests as George Washington. The future President would visit Mary's father, Ignatius Digges, for a brief rest from his travels around the colonies.
Coming from such a prominent family, it was fitting that Mary would be courted by the son of another prominent family, the Lee's of "Blenheim," also located in Prince Georges county. In October of 1771, Mary Digges and Thomas Sim Lee were married at her home, "Mellwood Park." They resided at "Needwood," which is now Frederick county, with their eight children.
The couple was very active in patriotic activities during the Revolutionary War. They were also very committed to their religious and community ties. They founded the St Mary's Roman Catholic Church in Petersville, Maryland.
In 1779, Thomas Sim Lee was selected to become the second Governor of Maryland, succeeding Thomas Johnson. He held the position of state executive until 1782 and then was selected to serve again in 1792. In 1794, he completed his second tenure as Governor.
The Revolutionary War was an extremely difficult time for everyone, and especially challenging for the Lees. Supplies were low, morale was poor and officers of the Maryland Line reported deplorable conditions suffered by the Continental troops. With supply shortages the most immediate threat, General George Washington appealed to his friend, Governor Lee for assistance, stating "unless some extraordinary and immediate exertions are made by the States from which we draw supplies, there is every appearance that the army will infallibly disband by fortnight" Governor Lee appealed to Mary for support. She hastily stepped forward into the public arena, a place women were forbidden to venture.
Determined to come to the aid of her countrymen, she was committed to relieving some of the pain and suffering of American soldiers. In 1780, she gathered the support of Maryland's women in collecting much needed supplies. She collected money and materials for the troops. Mary also encouraged other women to donate their talents and time to the cause. Responding to the pleas for linen to be used in shirts for the soldiers, she rallied the women together and ordered that 260 shirts be delivered at once.
Mary wrote to General Washington for input on how best to utilize the money and materials that she had collected. She proudly proclaimed that they had raised "a considerable sum for the relief of the American army." General Washington wrote to Mary expressing his gratitude for the "patriotic exertions of the ladies of Maryland in favor of the army."
Mary Digges Lee played not only an exemplary role in aiding American troops, she was also a devoted wife, mother, homemaker and hostess. Her achievements, in the face of public scrutiny for undertaking such an endeavor, prove her to be a true leader, a role model who truly earned her title of First Lady of Maryland. She died on January 25, 1805 at the age of 60 years old. Her husband remained a widower until his death on November 9, 1819.
---