Madeleine Lemoyne Ellicott
1856-1945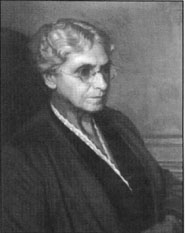 Madeleine Ellicott was born in Chicago on November 14, 1856. She was a descendant of the Huguenots, who, during the French Revolution fled to the United States and became actively involved in the progressive movement of their adopted country. They originally settled in Ohio, moved to Pennsylvania and finally to Baltimore.
At an early age, Madeleine had strong desires to pursue the field of medicine. Her father, however, would hear nothing of it, as women of this era were not accepted at the majority of medical schools in the country. Finally, he consented to the study of chemistry. She studied at Rush Medical School, and then spent a year studying at the Polytechnic in Zurich, Switzerland. When she returned from Switzerland, her family had established Baltimore as their new home. The Johns Hopkins University did not at the time admit women and; therefore, she was forced to abandon her studies.
In June of 1890, she married Charles Ellis Ellicott, an engineer by profession and a descendant of the founder of Ellicott City, Maryland. They had three sons, Charles Ellis Ellicott, Jr., born in 1892, Valcoulon LeMoyne Ellicott born in 1893, and John Roman Ellicott, born in 1896, but died in infancy.
Madeleine would come to be quite civic minded, not surprising considering her family's history of civic activism. Her family had a rich political history, beginning with her grandfather, Frances Jules Lemoyne, a "fearless advocate for the right," an abolitionist and a candidate for Vice-President on the Abolition Party ticket. He was proud of his role in giving the rights of citizenship to black men. Her father was a lawyer in Chicago and served a term in Congress. At one point, Medaleine served as a law clerk in her father's office and helped save important documents during the great Chicago Fire.
Madeleine devoted her efforts to her family and her humanitarian interests. Her purpose was to improve the lives of women and children, and secure equal rights for all human beings. She fought alongside thousands of women in pursuit of women's right to vote. She firmly believed that only an equal suffrage could right the wrongs against women, and that men's laws discriminated against women. She worked closely with women suffragists, Carrie Chapman Catt and Sadie Crockin, and accompanied them to Chicago in 1920 when the League of Women Voters of the United States was founded. She then returned to Maryland and founded the League of Women Voters of Maryland. She served as President of the League of Women Voters of Maryland for twenty years, longer than anyone since.
She also believed that every woman should have the knowledge of our courts and institutions. She would sit in court when young delinquents were arraigned, to give moral support to the frightened girls and to monitor the character of the interrogation. It was the often unfavorable treatment of these young women that led her to work for the creation of the Juvenile Court and for state supervised schools for girls requiring supervision.
Madeleine served on numerous boards, constantly striving to meet the immediate needs of the community. She was an attentive and devoted mother to her sons, one of whom became an epidemiologist, for which she was extremely pleased. Madeleine died in late summer of 1945.
---