Almira Hart Lincoln Phelps
1793-1884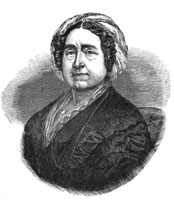 Almira Hart Lincoln Phelps spent her life as a pioneer for women's education, a teacher, a writer, and a publisher.
Phelps was born on July 15, 1793, in Berlin, Connecticut. The youngest of seventeen children, Phelps was raised in a household that encouraged reading and discussion. She studied at various New England boarding schools, including the Middlebury Academy and Pittsfield Female Academy. At the age of 16, Phelps went to live in Vermont with her sister, Emma. John Willard, a student at Middlebury College, boarded at their home and tutored Phelps on his lessons from the all male college. This experience showed Phelps the disparity between educational opportunities available for males and females, and she spent the rest of her life fighting to close the educational gap between genders.
Phelps taught in various Connecticut district schools between 1813 and 1817. Her career was put on hold after she married Simeon Lincoln and gave birth to three children. She was widowed in 1823 and resumed teaching at various schools on the East Coast. Her career took another brief hiatus when she married John Phelps and gave birth to two more children.
Between 1828 and 1837, Phelps established herself as a reputable publisher by publishing 10 textbooks, most focusing on botany and the education of young women. Her books, such as Familiar Lectures on Botany, received praise as excellent educational tools for women. These books became the standard textbooks across the United States and Canada, selling over 3,500 copies. Phelps became a household name through her writings and as a lecturer.
In 1841, Phelps arrived in Maryland and became head of the Patapsco Female Institute in Ellicott Mills, Maryland. At the time of her arrival, the school was in shambles. Phelps and her husband used their own funds to renovate the building. Through her work, Phelps transformed the Institute into a place of high academic standards with a curriculum rich in natural history, mathematics, and the sciences. Many of the school's graduates went on to become teachers as well. As a Northern woman teaching mostly Southern young women, Phelps had the intricate task of teaching during the buildup of conflict prior to the Civil War. She published a popular book on the subject, Our Country in its Relations to the Past, Present, and Future, in 1864.
Phelps retired from the Patapsco Female Institute at the age of 62, after spending fifteen years transforming the school into a successful enterprise and her entire life improving educational opportunities for young women. Phelps died on the morning of her 91st birthday on July 15, 1884.
Biography courtesy of the Maryland Commission for Women, 2010.
---