Sandra Williams Ortega, Ph.D.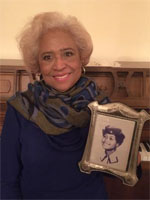 Sandra Williams Ortega was born in Baltimore in 1937. As an Air Force officer and civilian, Dr. Ortega has been a pioneer and change agent in areas relating to family, community, and organizational dynamics; mental health and well being; substance abuse and addiction; emergency medical management and disaster relief; and teaching and education. She has been a go-to person for battling systemic oppression, lack of opportunity, and the assumption of privilege.
Dr. Ortega resided in Baltimore for 21 years before receiving a direct commission into the United States Air Force by President Dwight D. Eisenhower, becoming on July 4, 1958 Morgan State University's first Air Force officer and Maryland's first African American woman commissioned as a U.S. Air Force Officer. Dr. Ortega's charge when she first entered the military was to serve as a pioneer for women of color in the Officer Corps of the United States Air Force, established in 1947. She accepted this challenge and worked hard to break down racial and gender stereotypes and biases.
Over the course of her career, Dr. Ortega improved the lives of countless military families and communities, changing the focus of the military family from dependent and ancillary to a critical component of retention and mission accomplishment. At the request of the Commander of the Air Force Space Command, she assessed the socio-environmental impact on a multicultural, multinational workforce at a strategic military site in Antarctica at the beginning of the AIDS epidemic. As Chief of Social Actions, responsible for drug and alcohol prevention, education and treatment, she implemented support programs that helped enlisted personnel and their families remain as constructive members of the military community. To address the increasing numbers of foreign-born spouses and their accompanying families for which there were no documentation or supportive programs, she created the still-functioning International Spouse Support Program for the Air Force.
Dr. Ortega has consulted, singly or as part of an international delegation, in the Soviet Union after its dissolution, Africa to help redesign village education and health infrastructures, and Cuba to share successful counseling approaches. Dr. Ortega has made significant contributions to the field of emergency management and disaster relief, as well. She was federally deployed to assist the people of New Orleans in the immediate aftermath of the devastation and chaos created by Hurricane Katrina. Her oversight in creatively filling medical and mental health services gaps during this time was so profound that Mayor C. Ray Nagin proclaimed March 23, 2006 as Dr. Sandra W. Ortega Day.
For 20 years, she served as the founder and president of Ortega Associates, which provides a range of consulting services to private sector and government clients in the United States and abroad.
Dr. Ortega has also made a difference in her own community by being elected three times as the Democratic Committee Woman representing the 9th District of Evesham Township, New Jersey.
Dr. Ortega has been an Adjunct Professor at the University of Medicine and Dentistry of New Jersey and the Federal Executive Institute in Charlottesville, Virginia. She holds a Masters in Counseling Psychology from Ball State University (Germany), an Honorary Doctorate of Laws from Morgan State University, and a Ph.D. in Sociology from La Salle University.
Julio, Sandy's husband of almost 60 years, is a decorated, retired Air Force Chief Master Sergeant.
Biography courtesy of the Maryland Commission for Women, 2018.
---