Helen L. Koss
1922-2008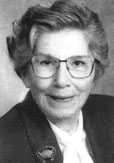 The Honorable Helen L. Koss was born June 3, 1922, in New York and has been in Maryland for over forty years. Delegate Koss represented the citizens of District 18 in Montgomery County in the Maryland House of Delegates for four terms, from 1971 until her retirement from the General Assembly in 1987.
In 1979, Delegate Koss "broke the gender barrier in the House of Delegates" when she was the first woman appointed to chair a Standing Committee, the Constitutional and Administrative Law Committee, a position she held from 1979 to 1987.
One of Delegate Koss' landmark achievements as a legislator was passage of the Displaced Homemakers Bill, establishing the first multipurpose center to counsel homemakers and train them for transition to economic independence. Delegate Koss also formulated a creative mechanism for the funding of this program through monies coming to the State via vanity automobile license plates. This program is a model nationwide.
Other significant legislation sponsored by Delegate Koss includes eliminating sex discrimination in credit, insurance and housing, and faculty salaries; eliminating discrimination on the basis of age in certain loans, retail credit accounts and installment sales; increasing penalties for violations of the Equal Credit Opportunity Act; and extending standards of he Equal Credit Opportunity Act to the grant of residential leases.
Prior to her years as an elected official, Delegate Koss served from 1963 to 1967 as President of the League of Women Voters of Maryland. During her tenure, the League was involved in civil rights issues with a primary focus on public accommodations. In 1967-68 she was a delegate to the Maryland Constitutional Convention where she chaired the Committee on Suffrage and Elections.
She has served on a number of state and county boards and commissions. In 1993, Governor Glendening appointed Koss to a four-year term on the State administrative board of Elections Laws. She served as Chair.
In her long career as a public servant, Delegate Koss has been a distinguished, accomplished, and articulate advocate for consumer protection, campaign finance reform, open meetings, and election law reform. She has been a leader for women'' rights and for equal rights for all of Maryland's citizens. State and national organizations have recognized her contributions. She has influenced the lives of Maryland's citizens today, her accomplishments will continue to have impact into the future. A supporter wrote, "If we had more public servants who stood and worked for equity and fairness like Helen, we could all be prouder of our government."
---