Catherine R. Gira, Ph.D.
1932-2019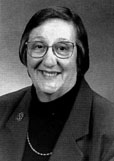 Dr. Catherine R. Gira was born in Pennsylvania on October 30, 1932, and has resided in Maryland for over forty-one years. Since 1991, Dr. Gira has been the president of Frostburg State University.
When Dr. Gira assumed the presidency of Frostburg State University, she had already established a reputation as a masterful consensus builder, stemming from her exceptional ability to bring together diverse members of the community during her tenure as provost of the University of Baltimore. She was responsible for much of the academic growth, budgeting and strategic planning that helped the University of Baltimore thrive in the 1980's.
In a challenging economic environment, Dr. Gira has provided the leadership to expand the University's role as a comprehensive institution for the Western Maryland region. Under her direction, Frostburg State University is now a vital cultural and intellectual center, as well as an important resource for residents of Maryland's westernmost counties and the adjoining areas of Pennsylvania and West Virginia.
In addition to being a highly regarded university administrator, Dr. Gira is also an accomplished Shakespearean scholar and a respected teacher. She is the author of numerous publications including a two-volume bibliographical and critical study of Shakespeare's Henry IV published by Garland Press.
Her most recent awards and recognition's include, Outstanding Woman of the Year by the Women Legislators of Maryland (1992), Maryland's Top 100 Women by Warfields' Business Record (1996), and inclusion in 1997 Maryland Women's History Month Kit: Maryland Women Leading the Way.
Dr. Gira has held leadership positions in numerous national and state professional associations. A representative listing includes: President of the American Association of University Administrators, Vice-Chair of the Federation of State Humanities Councils, Chair of the Maryland Humanities Council, and the President of the Maryland Association of Higher Education. She sits on several regional and national boards, including those of the Western Maryland Health System, the Rocky Gap Foundation, and the national Joint Military Intelligence College.
In support of Dr. Gira's nomination, a colleague wrote, "The path Dr. Gira has paved for herself, and other women, has not been easy. Like many women of her generation, she had followed the traditional careers of marriage and motherhood. Only later did she pursue her own education and, eventually, a career in higher education. Her success and rapid rise to top leadership positions are indicative of her intellectual acumen, her commitment to higher education, and her deeply held value of recognizing individual merit in others… For women faculty, staff, and students, her presence and quality of leadership say everyday that women belong in leadership positions."
---