Diane L. Adams, M.D.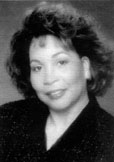 Diane L. Adams, a native of Chicago, Illinois, served as an Associate Professor of Clinical Medicine at the University of Maryland Eastern Shore in the Department of Physical Therapy from 1993-2000.
Adams, a trailblazer in the field of public health, was the first African American woman accepted to the General Preventive Medicine Program at the Johns Hopkins University School of Hygiene and Public Health in Maternal and Child Health. While serving as the first African American female Physician Director at the U.S. Coast Guard Shipyard Health Clinic and the Bureau of Engraving and Printing (BEP) Medical Clinic, Adams established the first Occupational Health and Biological Monitoring Program in their history.
During her time at the United States Public Health Service (USPHS) from 1990-2000, Adams established the first Minority Health Program at the Agency for Health Care Policy (AHCPR) and Research. The creation of numerous other research and service programs, such as the Medical Treatment Effectiveness Program (MEDTEP), illustrated her commitment to addressing health issues affecting minority groups.
Other positions Adams held include, Director of Health Policy, Research and Professional Medical Affairs and Acting Executive Director at the National Medical Association (NMA) from 2001 to 2002, Senior Health Policy Fellow and Consultant at the Center for Advanced Communications Policy (CACP) from 2002-2007, and Project Director, Asthma Prevention and Management Initiative (APMII) at Alpha Kappa Alpha Sorority, Inc. from 2010-2022. In 2003, Adams founded, and later became Chair Emeritus of, the Health Informatics Information Technology Section at the American Public Health Association (APHA). Starting in 2002, she served on several Board of Directors including the United Nations Association, United States of America (UNA-USA) and Juxtopia, LLC, a biomedical and information technology company.
Adams received a variety of awards and honors that include being listed in the 5000 Personalities of the World (1996), Who's Who in Medicine and Healthcare (1996), National Black Health Leadership Directory as one of the top 500 healthcare leaders in the country, and induction into the Johns Hopkins Delta Omega Honorary Society in Public Health-Alpha Chapter for excellence in the field of Public Health (1994). In September 1993, she was invited to the White House to participate in President Clinton's Health Care Reform Initiative.
In 1993, Adams sponsored the First National Conference on Cultural Diversity and Women's Health. It was followed in 1996 by Bridging the Gap: The First International Conference on Cultural Diversity and Women's Health. The success of this initiative was underscored by the fact that conferences were scheduled through 1999 in Egypt and the United States.
Adams authored many scholarly and technical works. In 1995, she contributed as an editor to the volume Health Issues for Women of Color: A Cultural Diversity Perspective.
Adams' immediate family includes her husband of over 25 years, William M. Adams, a computer scientist/software engineer, and their three children.
""Achieving Global Trust and Respect Requires Sharing Meaningful Knowledge and Wisdom Over the Course of a Lifetime" – Diane L. Adams (quote taken from the JuiceNetwork.org)
Biography courtesy of the Maryland Commission for Women, 1997; updated 2023.
---