Joanne Katz, Sc.D.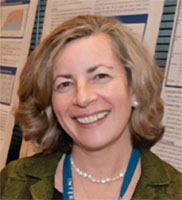 Dr. Joanne Katz was born in Cape Town, South Africa and moved with her parents and siblings to the United States in 1978. She has resided in Baltimore City, Maryland for 33 years. She received a B.Sc. in Economics and Statistics from the University of Cape Town in 1978, M.S. in Mathematical Statistics from Princeton in 1982, and Sc.D. in International Health from Johns Hopkins School of Public Health in 1993.
She has made extraordinary contributions to the field of public health, blindness prevention and maternal and child health and has been an outstanding teacher and mentor to countless numbers of students. From 1982 through 1994 she served on the faculty of the Wilmer Eye Institute at the Dana Center for Preventive Ophthalmology in the Johns Hopkins School of Medicine. Since 1994, her primary appointment has been in the Johns Hopkins Bloomberg School of Public Health, where she is currently a Professor of International Health with joint appointments in Biostatistics, Epidemiology, and Ophthalmology.
Dr. Katz is a statistician and epidemiologist who has made significant contributions to the health and vision of Maryland and Baltimore City children and the elderly through research to understand the burden of eye disease, improve diagnosis, and identify effective methods of prevention and treatment. This work has focused on those most underserved in Baltimore, but with results that have impact across the United States and beyond, resulting in improved screening and outreach programs to identify those in need of care.
Her work also extends to underserved populations in Asia and Africa where her research has sought to find low cost interventions to reduce micronutrient deficiencies, infectious diseases, and poor reproductive outcomes among pregnant women, adolescents, and young children. Several of these interventions tested through rigorous randomized community based trials are now being implemented as programs in many low income countries. These include vitamin A supplementation for preschool children and chlorhexidine, a low cost antiseptic for umbilical cord care. Through her role as a professor and Director of Academic Programs in the Department of International Health, she has mentored and taught many of the next generation of public health researchers and practitioners, and contributed to the design and content of global health training programs.
She has also served as role model for young female students and faculty. She has received several teaching awards from the student body, is a member of the Delta Omega Alpha Chapter public health honors society, and recipient of the Johns Hopkins Alumnae Knowledge for the World Award. She is the current president of the Faculty Senate of the Johns Hopkins Bloomberg School of Public Health where she also chairs the Institutional Review Board in order to ensure that the rights of research subjects in Maryland, and around the world, are protected. She has served as a board member of Beth Am Synagogue in Reservoir Hill, Baltimore City for the past eight years.
Biography courtesy of the Maryland Commission for Women, 2016.
---