Marsha Coleman-Adebayo, Ph.D.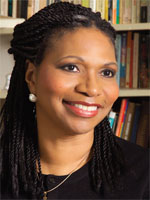 Dr. Marsha Coleman-Adebayo received her A.B. degree from Barnard College/Columbia University and her doctorate degree from the Massachusetts Institute of Technology (MIT). Originally from Detroit, Michigan, she moved to Maryland 30 years ago to assume a professorial position at the American University. Dr. Coleman-Adebayo is the author of the Pulitzer-nominated book: NO FEAR: A Whistleblower's Triumph over Corruption and Retaliation at the EPA.
Dr. Coleman-Adebayo's fight for a workplace free of sexism, racism and retaliation against whistleblowers started on August 18, 2000. Dr. Coleman-Adebayo won an historic lawsuit against the EPA on the basis of race, sex, color discrimination, and a hostile work environment. She subsequently testified before Congress on two occasions. As a result, the Notification of Federal Employees Anti-discrimination and Retaliation Act (No FEAR) was introduced by Congressman F. James Sensenbrenner (R-WI), Congresswoman Shelia Jackson Lee (D-TX) and Senator John Warner (R-VA). She provided the leadership for the passage of the No FEAR law signed onto by President George W. Bush. Millions of federal workers and their families have directly benefited from Dr. Coleman-Adebayo's courageous sacrifice and the protections of the No FEAR law.
From the floor of the U.S. Senate after the unanimous vote on the No FEAR Act, Senator John Warner called Dr. Coleman-Adebayo and told her, "Young lady, I am calling you from the well of the Senate floor. The United States Senate has just passed the No FEAR Act, the first civil rights law of this century – you have made history. Congratulations!" The No FEAR Act serves society by making it possible for federal employees to raise "red flags" when they see misconduct.
Dr. Coleman-Adebayo is the founder of the No FEAR Institute, an organization devoted to educating the American public about federal sector discrimination and the implementation of the No FEAR Act. The No FEAR Institute co-sponsored two symposiums on vanadium poisoning in South Africa and New York.
In 2003, Good Housekeeping magazine selected her as its "Woman of the Year." The National Whistleblower Center has characterized her as one of the most influential "truth-tellers" in the country. TIME Magazine has called her the Rosa Parks of the 21st century for her bravery in the face of workplace intimidation. She was inducted into the Hall of Fame by the Project on Government Oversight (POGO) in June 2007. The Southern Christian Leadership Conference (SCLC) recognized Dr. Coleman-Adebayo's leadership in the civil rights movement at its 50th anniversary gala in Atlanta, Georgia. The Montgomery County Chapter of the NAACP awarded Dr. Coleman-Adebayo its 2016 Unsung Hero Award.
Biography courtesy of the Maryland Commission for Women, 2017.
---