THEATER
---
Maryland's two principal theaters are Center Stage (the State Theater) and Olney Theater (the State Summer Theater). In addition, Maryland is home to a variety of smaller professional and community theaters, ranging from classical to experimental.

Center Stage at night, 700 North Calvert St., Baltimore, Maryland. Photo courtesy of Center Stage.

---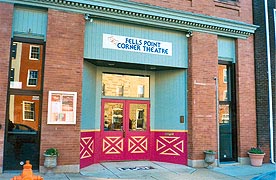 Members of Baltimore's vibrant theater community, including the Black Cherry Puppet Theater, Everyman Theatre, the Fell's Point Corner Theatre, and the Theatre Project produce everything from avant-garde puppetry to Shakespeare.

Fell's Point Corner Theatre, 251 South Ann St., Baltimore, Maryland, December 2008. Photo by Diane F. Evartt.

---
Community theater thrives in Annapolis, where the Colonial Players celebrate over half a century of education and entertainment in a city that is also home to the Summer Garden Theatre and the Annapolis Shakespeare Company. For those outside the metropolitan area, Rep Stage in Columbia offers professional quality theater in intimate settings. In Charles County, the Port Tobacco Players entertain at La Plata.

For information on Annapolis theater history, see "The Progress of Refinement: A History of the Theatre in Annapolis" by Jane McWilliams (Annapolis: The Colonial Players Inc., 1976).
---
ACTORS
Albaugh, John W., Sr. (1837-1909)

Born in Baltimore, Maryland, September 30, 1837
Died in Jersey City, New Jersey, February 11, 1909

Albaugh, John W., Jr. (1867-1910)

Born in New York, New York, 1867
Died in Baltimore, Maryland, April 7, 1910

Bankhead, Tallulah (1902-1968)

Born in Huntsville, Alabama, January 31, 1902
Died in New York, New York, December 12, 1968
Buried in Chestertown, Maryland

Bateman, Hezekiah L.
(1812-1875)
Born in Baltimore, Maryland, December 6, 1812
Died in London, England, March 22, 1875