---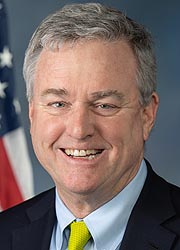 DAVID TRONE (Democrat), U.S. Representative, 6th Congressional District (Allegany, Garrett & Washington counties, & parts of Frederick & Montgomery counties), Maryland.
Capitol Hill:
1110 Longworth House Office Building, Washington, DC 20515 - 2006
(202) 225-2721; fax: (202) 225-2193
web: https://trone.house.gov/

Allegany County:
217 Glenn St., Suite 500, Cumberland, MD 21502
(240) 382-6464

---
Frederick County:
10 Hillcrest Drive, Unit 28, Frderick, MD 21703
(240) 803-6119

Montgomery County
One Washington Center, Suite 330
9801 Washingtonian Blvd., Gaithersburg, MD 20878

Washington County:
1850 Dual Highway, Suite 101, Hagerstown, MD 21740
(240) 382-6464
---
Member of U.S. House of Representatives since January 3, 2019. Member, Appropriations Committee, 2021- (transportation, housing & urban development, & related agencies subcommittee, 2021-; commerce, justice, science, & related agencies subcommittee, 2021-; military construction, veterans affairs, & related agencies subcommittee, 2021-); Joint Economic Committee, 2019-; Committee on Veterans Affairs, 2021-. Member, Education and Labor Committee, 2019-20 (civil rights & human services subcommittee, 2019-20; higher education & workforce investment subcommittee, 2019-20); Foreign Affairs Committee, 2019-20 (europe, eurasia, energy, & the environment subcommittee, 2019-20; middle east, north africa, & international terrorism subcommittee, 2019-20).

Born in Cheverly, Maryland, September 21, 1955. Furman University, B.A., magna cum laude, 1977; Wharton School, University of Pennsylvania, M.B.A., 1985. Founder, Beer World, Pennsylvania, 1984. Former president, Total Wine & More. Board of Trustees, Bullis School, 2006-; Furman University, 2010-16; American University, 2016-; Montgomery Chamber of Commerce, 2016-. Chair, Trone Private Sector and Education Advisory Council, American Civil Liberties Union Trone Center. Distinguished Service Award, Kids Enjoy Exercise Now Greater DC, 2012. Entrepreneur of the Year Greater Washington, Ernst & Young, 2014. Annual Achievement Award, Anti-Defamation League, 2016. Married; four children.
---

This web site is presented for reference purposes under the doctrine of fair use. When this material is used, in whole or in part, proper citation and credit must be attributed to the Maryland State Archives. PLEASE NOTE: The site may contain material from other sources which may be under copyright. Rights assessment, and full originating source citation, is the responsibility of the user.
---
Tell Us What You Think About the Maryland State Archives Website!
---
© Copyright March 14, 2022 Maryland State Archives