---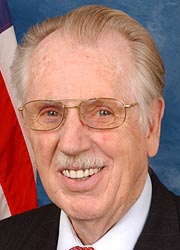 ROSCOE G. BARTLETT (Republican), U.S. Representative, 6th Congressional District (Allegany, Carroll, Frederick, Garrett & Washington counties, & parts of Baltimore, Harford & Montgomery counties), Maryland.



---
Member of U.S. House of Representatives from January 1993 to January 3, 2013. Member, Armed Services Committee, 2000-13 (chair, tactical air & land forces subcommittee, 2010-13; member, seapower & expeditionary forces subcommittee, 2007-13; military personnel subcommittee, 2000-02; research & development subcommitttee, 2000-02; chair, projection forces subcommittee, 2003-06; member, oversight & investigations subcommittee, 2007-10); Science, Space and Technology Committee (formerly Science and Technology Committee), 1993-2013 (energy & the environment subcommittee, 2007-13; research & science education subcommittee, 2007-13; technology subcommittee, 2000-02; space & aeronautics subcommittee, 2000-06; chair, energy subcommittee, 2001-06); Small Business Committee, 1993-2013 (agriculture, energy & trade subcommittee, 2011-13; chair, government programs & oversight subcommittee, 2000-01; member, regulatory reform & oversight subcommittee, 2001-06; rural enterprises, agriculture & technology subcommittee, 2001-02; contracting & technology subcommittee, 2007-11; urban & rural entrepreneurship subcommittee, 2007-11). Co-Founder and Co-Chair, Congressional Peak Oil Caucus. Co-Chair, Renewable Energy and Energy Efficiency Caucus; Defense Energy Security Caucus. Member, Oil and National Security Caucus.

Resident of Buckeystown. Born in Moreland, Kentucky, June 3, 1926. Attended Mt. Vernon Academy, Ohio; Columbia Union College, Takoma Park, B.A. (biology), B.A. (theology), 1947; University of Maryland College Park, M.S. (human physiology), 1949, Ph.D., (human physiology), 1952. Instructor and assistant professor (anatomy, physiology, zoology), University of Maryland, 1948-52. Assistant professor, Loma Linda University School of Medicine, California, 1952-54; Howard University Medical School, 1954-56. Researcher, National Institutes of Health, 1956-59. Researcher and teacher of postgraduate medicine, U.S. Naval School of Aviation Medicine, Pensacola, Florida, 1959-61. Scientist/engineer manager, The Johns Hopkins University Applied Physics Laboratory, 1961-66. Farmer since 1961. Worked for IBM in research and development (8 years). Started Roscoe Bartlett & Associates, a research & development company that diversified into RBA Construction (homebuilding, land development). Instructor (anatomy & physiology), Frederick Community College. Delegate, Republican Party National Convention, 1996. Jeffries Aerospace Medicine and Life Sciences Research Award, American Institute of Aeronautics and Astronautics, 1999. Award, Manufactured Housing Institute of Maryland, 2004. Benjamin Franklin Award, 60 Plus Association, 2004. William Proxmire Award, Copper Ridge Institute, 2004. Friend of Agriculture Award, American Farm Bureau Federation, 2004. M. King Hubbert Award, Association for the Study of Peak Oil, 2006. Married; ten children; eighteen grandchildren, two great-grandchildren.
---

This web site is presented for reference purposes under the doctrine of fair use. When this material is used, in whole or in part, proper citation and credit must be attributed to the Maryland State Archives. PLEASE NOTE: The site may contain material from other sources which may be under copyright. Rights assessment, and full originating source citation, is the responsibility of the user.
---
Tell Us What You Think About the Maryland State Archives Website!
---
© Copyright May 04, 2020 Maryland State Archives