---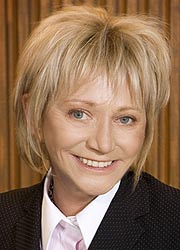 STEVIE PRETTYMAN
Member, County Council (Republican), 1998-2014

Member, County Council, Wicomico County, representing District 2, 1998 to December 2, 2014 (vice-president, 2006-07, 2008-09).

Member, Chesapeake Bay Critical Area Commission, 2001-02; Tri-County Council for the Lower Eastern Shore of Maryland, 2001-14; Critical Area Commission for the Chesapeake and Atlantic Coastal Bays, 2002-09. Member, Salisbury-Wicomico Metropolitan Planning Organization Council, 2004-14; Local Management Board (Partnership for Families and Children), Wicomico County, 2006-14; Salisbury-Wicomico County Economic Development Revolving Loan Committee, 2010-14. Past member, Drug and Alcohol Abuse Council, Wicomico County.

---
Part owner of three radio stations. Retired manager, Prettyman Broadcasting Company. Member, National Association of Broadcasters; Salisbury Area Chamber of Commerce; Wicomico Republican Club.
---
© Copyright September 29, 2015 Maryland State Archives