---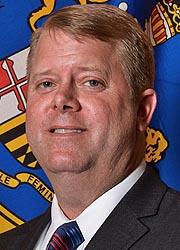 THOMAS H. JARBOE, Vice-President, Commissioners of St. Mary's County (Republican)
P. O. Box 653
Governmental Center, 23115 Leonard Hall Drive (near Route 245)
Leonardtown, MD 20650 - 0653
(301) 475-4200, ext. 1354; fax: (301) 475-4935
e-mail: tom.jarboe@stmarysmd.com
---
Vice-President, Commissioners of St. Mary's County, since December 9, 2014 (member, representing District 1, since Dec. 1, 2014).

Member, Board of Health, St. Mary's County, 2014-. Past co-chair, Local Emergency Planning Commission, St. Mary's County.

Born in Leonardtown, Maryland, July 15, 1969. Attended St. Mary's Ryken High School, Leonardtown, Maryland; Regents University of New York, A.S. (general studies), 1992; University of Maryland, College Park, B.A. (behavioral & social sciences), 1994, M.S. (international business), 2002. Served in U.S. Coast Guard. Chief Operating Officer, Technology Security Associates, Inc., 2003-14. President, Kieyos, LLC., Lexington, Maryland, 2014-. Member, Leadership Maryland, Class of 2006. Chair, Leadership Council, Leadership Southern Maryland, 2010-. Board of Directors, St. Mary's County Chamber of Commerce, 2002-11 (chair, 2008). Past member, Board of Directors, Southern Maryland Navy Alliance; Baltimore Council on Foreign Affairs; Armed Forces Communications and Electronics Association; Patuxent Partnership; World Trade Institute; Washington International Trade Association. St. Mary's County Business Person of the Year, St. Mary's County Chamber of Commerce, 2013. Married; three children.
---
© Copyright December 10, 2015 Maryland State Archives