---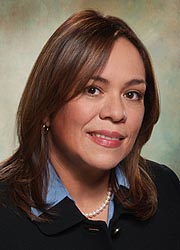 NANCY NAVARRO, Vice-President, County Council (Democrat)
---
Vice-President, County Council, Montgomery County, since December 5, 2017 (member, representing District 4, since June 3, 2009; vice-president, Dec. 6, 2011 to Dec. 4, 2012; president, Dec. 4, 2012 to Dec. 3, 2013). Chair, Government Operations and Fiscal Policy Committee, 2010-. Member, Education Committee, 2014-. Member, Management and Fiscal Policy Committee, 2009-10; Health and Human Services Committee, 2009-14.

Member, President's Commission on Educational Excellence for Hispanics, 2011- (early childhood education committee).

Member, Board of Education, Montgomery County, 2004-09 (president, 2006-08; member, strategic planning committee; chair, communications & public engagement committee). Co-Chair, Task Force on Quality Child Care for Immigrant Communities, Montgomery County, 2002-03. Member, Community Action Task Group, Montgomery County Gang Task Force, 2005-07. Board of Directors, Metropolitan Washington Council of Governments, 2014-.

Born in Caracas, Venezuela, August 15, 1965. University of Missouri-Columbia, B.A. (psychology), 1987. Public Education Leadership Project, Harvard University, 2007, 2008. Founder & Executive Co-Director, Centro Familia, 1998-2004. 1st Vice-President, Maryland County Officials Diversity Caucus, Maryland Association of Counties, 2015-. Women Who Dare Leadership Award, State Department of Education, 2001. Woman of Achievement, Montgomery County Business and Professional Women Association, 2007. Hispanic Hero in Education, U.S. Hispanic Youth Entrepreneur Education, 2007. Heart of the Community Award, Community Teachers Institute, 2009. Elected Local Government Official of the Year, Mid-Atlantic Hispanic Chamber of Commerce, 2010. Maryland's Top 100 Women, Daily Record, 2009, 2013. Most Powerful Women, Washingtonian Magazine, 2013. Married; two daughters.
---
© Copyright December 11, 2017 Maryland State Archives