---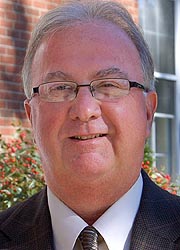 LARRY C. PORTER, Vice-President, County Commissioners of Caroline County (Republican)
---
Vice-President, County Commissioners of Caroline County, December 7, 2010 to January 1, 2012 and January 2 to December 2, 2014, and since December 2016 (member since Dec. 7, 2010; president, Jan. 1, 2012 to Jan. 8, 2013, and Dec. 2, 2014 to Dec. 15, 2015). Board of Health, Caroline County, 2010-. Chair, Board of Estimates, Caroline County, 2010-11. Member, Social Services Board, Caroline County, 2015-.

Member, Mid-Shore Regional Council, 2010-.

Mayor of Denton, 1991. Past member, Denton Town Council. Board of Library Trustees, Caroline County, 2007-10 (past treasurer).

Born in Greensboro, Maryland. Attended North Caroline High School, Ridgely, Maryland; Chesapeake College, A.A.; Salisbury University. President, Cabell Corporation, a real estate development and management company, Denton. Past member, Advisory Board of Trustees, Provident State Bank. Past member, Board of Directors, Caroline County Country Club. Life member, Denton Volunteer Fire Company (past president). Married; two sons, three grandchildren.
---
© Copyright February 06, 2017 Maryland State Archives