---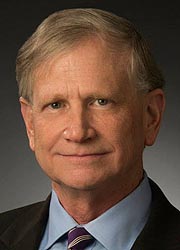 ARTHUR M. FRANK, Judge (Democrat)
Orphans' Court, County Courts Building, 401 Bosley Ave., Towson, MD 21204 - 4403
(410) 887-6516; fax: (410) 296-5480
---
Judge, Orphans' Court, Baltimore County, since December 1, 2014.

Member, Public Safety, Corrections and State Police Work Group, Governor-elect's Transition Team, 2006.

Born in Pikesville, Maryland, June 30, 1955. University of Baltimore, B.A. (political science & jurisprudence), magna cum laude, 1974, J.D., 1976 (dean's outstanding student advocate award of the year). Admitted to Maryland Bar, 1977; U.S. District Court for District of Maryland, 1978; U.S. Court of Appeals, Fourth Circuit, 1980. Attorney, Law Offices of Arthur M. Frank, P.A., 1977-. Member, Maryland State Bar Association; Baltimore City Bar Association; Baltimore County Bar Association. Member, Maryland Criminal Defense Attorneys' Association. Member, Maryland Association of Judges of the Orphans' Court, 2014-; National College of Probate Judges, 2014-. Board of Directors, Baltimore Urban League, 1999-2006. Vice-President, Most Worshipful Prince Hall Grand Masonic Lodge Scholarship Trust Fund, 2001-05. Lifetime member, Maryland Crime Victims' Resource Center.
---
Search the Manual
e-mail: mdmanual@maryland.gov
© Copyright March 14, 2022 Maryland State Archives