---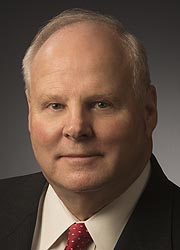 WILLIAM R. EVANS, Chief Judge (Democrat)
Orphans' Court, County Courts Building, 401 Bosley Ave., Towson, MD 21204 - 4403
(410) 887-6516; fax: (410) 296-5480
---
Chief Judge, Orphans' Court, Baltimore County, since February 2009 (judge, 2006-). Member, Conference of Orphans' Court Judges, 2014-15.

Member, Baltimore County Board of Appeals, 1982-86. Member, Baltimore County Council, 1986-90.

Attended Calvert Hall College High School, Baltimore, Maryland; John Carroll University, B.S., 1969. Served in U.S. Air Force and National Guard, 1967-72. University of Baltimore School of Law, J.D., 1973. Admitted to Maryland Bar, 1973. Member, American, Maryland State, and Baltimore County Bar Associations. Member, National College of Probate Judges; Maryland Association of Judges of the Orphans' Court; Trial Judges Association of Maryland. Member, Dissenters Law Club; American Legion; Liberty Pickering Lodge no. 219, Cockeysville, Ancient Free and Accepted Masons (AF & AM) of Maryland. Married; two sons; five grandchildren.
---
Search the Manual
e-mail: mdmanual@maryland.gov
© Copyright March 14, 2022 Maryland State Archives