---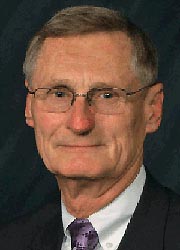 RICHARD B. (DICK) LADD (1940-2021)
Member, County Council (Republican), 2010-14
Member, County Council, Anne Arundel County, representing Councilmanic District 5, December 6, 2010 to December 1, 2014 (chair, Dec. 6, 2010 to Dec. 5, 2011; vice-chair, Dec. 2, 2013 to Dec. 1, 2014).

Member, Board of Health, Anne Arundel County, 2010-14.

Former Deputy Undersecretary of the Army. Former staff to U.S. Senate Appropriations Committee. Member, Army Science Board. Past member, Army Educational Advisory Committee.
---
Born in Scituate, Massachusetts, 1940. Bowdoin College, A.B. (mathematics); Tulane University, M.B.A.; U.S. Air Force Command and Staff College. Served in U.S. Army (helicopter pilot, Vietnam; 4 bronze stars; 16 air medals). Former defense consultant, Robison International, Inc., Washington, DC. Board of Directors, National Defense Industrial Association. Member, Legislative Committee, Maryland Association of Counties, 2011- (education subcommittee, 2011-). Board of Directors, Hospice Cup, Inc. (past president); Beacon Hill Homeowners Association (treasurer). Member, Calvary United Methodist Church, Annapolis. Married; two children, three grandchildren. Died July 18, 2021.
---
© Copyright July 20, 2021 Maryland State Archives