---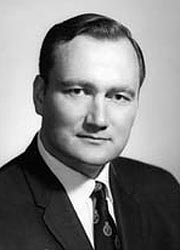 ROBERT A. PASCAL (1934-2021)
County Executive (Republican), 1974-82

County Executive, Anne Arundel County, 1974-82. Member, Regional Planning Council, 1974-82; Governor's Commission to Study Revision of the School Construction Program, 1977-78. Member, Social Services Board, Anne Arundel County, 1974-82; Gas Commission, Arundel County.

Delegate, Constitutional Convention of Maryland, 1967-68.

Member, State Senate, representing Anne Arundel County (District 6B), 1971-74. Member, Economic Affairs Committee, 1971-74; Executive Nominations Committee, 1971-74; Committee on Administrative, Executive, and Legislative Review, 1973-74.

---
Member, Maryland Commission on the Capital City, 1971-74; Commission to Study the Necessity of a Statewide Board of Master Electricians, 1972-74; Maryland Commission on the Functions of Government, 1972-74; Governor's Study Commission on the Structure and Governance of Education, 1973-74.

Appointments Secretary, Office of Governor, 1989-95. Chair, Governor's Transition Team for Higher Education, 1989-90; Task Force on the Charles H. Hickey, Jr. School, 1991-92. Member, Governor's Commission on Growth in the Chesapeake Region, 1991-92; Governor's Commission on Competitive Forces Facing Maryland's Horse-Racing Industry, 1996-97; Wildlife Advisory Commission, 2003-.

Member, Governor-elect's Transition Team, 2002-03.

Born in Glen Ridge, New Jersey, July 20, 1934. Attended New Jersey public schools; Bloomfield High School, Bloomfield, New Jersey; Duke University, B.A.(economics), 1957. All-American college football player and most valuable player, Duke football.Owner, Harbourside, Inc., 1999-. Owner and general manager, St. Michaels Harbour Inn, Marina and Spa, and Bistro, St. Michaels, Maryland. Owner, Pascal Group. President, United Propane, a gas and oil products company. President, Maryland L.P. Gas Association. Vice-President, Severna Park Optimist Club. Member, Boy Scouts of America; Young Men's Christian Association (YMCA). Secretary, Capital District Kiwanis History, 1968. Board of Directors, North Arundel Health System. Voted one of five outstanding young men in Maryland, 1969. Inducted into Duke Athletics Hall of Fame, 1995. Married; four daughters, eleven grandchildren, eleven great-grandchildren. Died in Easton, Maryland, March 12, 2021.
---
The Robert A. Pascal Senior Center at 125 Dorsey Road, Glen Burnie, Maryland, was named for Mr. Pascal in 1974. Later, the Pascal Center for Performing Arts at the Anne Arundel Community College, Arnold, Maryland, was named for Robert and Nancy Pascal. Also, the Pascal Field House at Duke University, Durham, North Carolina, was named in Mr. Pascal's honor in 2011.
---
Search the Manual
e-mail: mdmanual@maryland.gov
© Copyright March 14, 2022 Maryland State Archives