---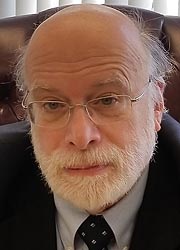 ALBERT L. FELDSTEIN, Judge (Republican)
Orphans' Court
Courthouse, 30 Washington St., Cumberland, MD 21502
(301) 724-3760
fax: (301) 724-1249
---
Judge, Orphans' Court, Allegany County, since December 29, 2017.

Regional Planner, Maryland Department of Planning, 1978-2014.

Board of Trustees, Maryland Historical Trust, 2013-. Member, Maryland Humanities Council, 2015-.

Born in Cumberland, Maryland. University of Maryland, B.A. (political science), 1971. Teacher and Director, Head Start, Human Resources Development Commission, Allegany County, 1973-78. Author of over 26 books on Western Maryland history.
---
© Copyright January 10, 2018 Maryland State Archives