ORIGIN & FUNCTIONS
---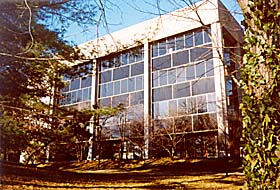 Courts of the Maryland Province were first authorized to examine persons seeking to practice law in 1715 (Chapter 48, Acts of 1715). These examinations typically were carried out by the County Courts from 1715 to 1851. Those duties then were assigned to the Circuit Courts from 1851 to 1898, when the State Board of Law Examiners was created by the General Assembly (Chapter 139, Laws of 1898).


Judiciary A_POD, 580 Taylor Ave., Annapolis, Maryland, December 2000. Photo by Diane F. Evartt.

---
The State Board of Law Examiners and its staff administer the bar examination and coordinate the application process by which persons are admitted to practice law in Maryland.

Since July 2019, the State Board of Law Examiners has administered and graded the Uniform Bar Examination (UBE). Held twice yearly, in February and July, the UBE is a two-day examination. Subject to eligibility requirements set on a state-by-state basis, applicants may be permitted to transfer a UBE score earned in another UBE jurisdiction to Maryland, or to transfer a UBE score earned in Marylad to another UBE jurisdiction in lieu of retaking the exam. As of July 2019, approximately 36 states had adopted or announced plans to adopt the UBE in the near future. Eligibility and procedures for admission are governed by Maryland Rules 19-201 and 19-214.

The first day of the UBE consists of the Multistate Performance Test (MPT) and the Multistate Essay Examination (MEE), which are essay components developed by the National Conference of Bar Examiners.
Multistate Performance Test (MPT). The MPT is a writing exercise in which the applicant generates a piece of "attorney work product", such as a memo, a letter, or the argument section of a brief or motion, based on a closed library of fact materials and legal resources.

Multistate Essay Examination (MEE). The MEE is a traditional essay test. Areas of law that may be covered on the MEE include Business Associations (agency & partnership; corporations & limited liability companies); Civil Procedure: Conflicts of Law; Constitutional Law; Contracts (including Article 2 [sales] of uniform commercial code); Criminal Law and Procedure; Evidence; Family Law; Real Property; Torts; Trusts and Estates (decendents' estates; trusts & future interests); and Article 9 (secured transactions) of Uniform Commercial Code (Rules Governing Admission to the Bar, adopted by Court of Appeals, June 6, 2016 (effective July 1, 2016); Rules of Board adopted & amended through June 6, 2016; Maryland Rules, Title 19, Chapters 100 & 200). Some questions may encompass more than one area of law, and the particular areas covered vary from exam to exam.
On the second day, the Multistate Bar Examination (MBE) is given as part of the overall examination. The MBE is the nationally recognized law examination, consisting of multiple-choice questions, prepared and graded under direction of the National Conference of Bar Examiners. In Maryland, the MBE has been used since 1972. It covers seven subjects: constitutional law, contracts, criminal law, evidence, federal civil procedure, real property, and torts.
Experienced out-of-State attorneys may be eligible to apply for admission to the Maryland bar without taking a written bar examination. Such applicants must have practiced law for a total of ten years or at least three of the most recent five years preceding application. For experienced out-of-state attorneys, eligibility and procedures for admission without examination are governed by Maryland Rules 19-214 and 19-216.
The requirement that all applicants to practice law in Maryland live in the State when admitted to the bar was abolished in 1982.
Formerly, the Board was housed at the Judiciary Education and Conference Center, 2011-F Commerce Park Drive, Annapolis. In September 2019, it moved to its present location.
Seven lawyers compose the Board of Law Examiners. They are appointed to five-year terms by the Court of Appeals.
Authorization for the Board continues until July 1, 2030 (Chapter 413, Acts of 2008; Chapter 591, Acts of 2018; Code Business Occupations & Professions Article, secs. 10-201 through 10-218).
---
© Copyright March 06, 2020 Maryland State Archives