MARYLAND 250 COMMISSION
Parris N. Glendening, Chair (chosen by Governor)
Catherine Curran (Katie) O'Malley, Vice-Chair (chosen by Governor)

---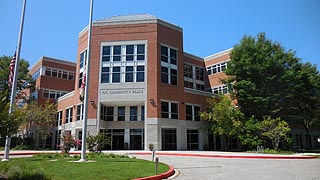 Appointed by Governor: Terri Lee Freeman; Stephen J. Kearney; Robin Vierbuchen Sproul; Reggie J. Turner; Antonio Uques, Jr., Ph.D.

Appointed by Senate President: John D. (Jack) Bailey; Benjamin T. Brooks, Sr.

Appointed by House Speaker: Brenda B. Coakley; Joni Jones Floyd, Ph.D.


100 Community Place, Crownsville, Maryland, July 2016. Photo by Diane F. Evartt.

---
Representing Maryland Center for History & Culture: Katie M. Caljean
Representing Maryland Humanities: Alexandra Cenatus
Representing Preservation Maryland: Nicholas A. Redding
Ex officio: Aruna K. Miller, Lt. Governor; Susan C. Lee, Secretary of State; Raquel M. Coombs, designee of Secretary of Budget & Management; Elizabeth F. (Liz) Fitzsimmons, designee of Secretary of Commerce; Luis A Luna, designee of Secretary of General Services; Robert F. Bailey, designee of Secretary of Natural Resources; Rebecca L. Flora, Secretary of Planning; D. Paul Monteiro, Jr., Secretary of Service & Civic Innovation; Anthony C. Woods, Secretary of Veterans Affairs; Peter Phineas Ramsey, designee of State Superintendent of Schools; Rev. Lawrence E. Walker, Sr., Executive Director, Governor's Office of Community Initiatives; Elaine Rice Bachmann, State Archivist; Elizabeth A. Hughes, State Historic Preservation Officer; Steven Skerritt-Davis, Executive Director, Maryland State Arts Council; Chanel Compton, designee of Chair, Commission on African-American History & Culture; E. Keith Colston, designee of Chair, Commission on Indian Affairs; Judith A. Emmel, designee of Chair, Maryland Commission for Women; Ronald E. (Pete) Lesher, Jr., designee of Executive Director, Maryland Association of Counties; Takisha James, designee of Executive Director, Maryland Municipal League.
Michele W. Johnson, Director
c/o Maryland Historical Trust, 100 Community Place, 3rd floor, Crownsville MD 21032
(410) 697-9590
e-mail: michele.johnson1@maryland.gov
web: https://mdtwofifty.maryland.gov/
---
Action Plan to Governor & General Assembly due Dec. 31, 2021 (Executive Order 01.01.2023.10).
Annual Report to Governor & General Assembly due Dec. 31 (Executive Order 01.01.2023.10).
---
The Maryland 250 Commission originated as the Maryland Sesquicentennial Commission formed by the Governor in January 2021 (Executive Order 01.01.2021.03). In July 2023, the Governor replaced the Maryland Semiquincentennial Commission with the Maryland 250 Commission, expanding its responsibilities to plan Maryland's celebration of the 250th anniversary of the founding of the United States, which will take place on July 4, 2026 (Executive Order 01.01.2023.10).
For the Semiquincentennial of the United States, and all related activities, communications, and events, the Maryland 250 Commission will serve as Maryland's official representative. The Commission is charged with coordinating its plans with the U.S. Semiquincentennial Commission, and local, county and state commissions, as well as private and public partner organizations.
For Maryland, the Commission will develop and carry out educational, commemorative and celebratory events; and invite broad-based public input on the meaning, significance, and opportunities of this anniversary that will inform development of commemoration activities, programs, and events.
The Commission is to support the identification and enhancement of cultural assets that tell who we are as Marylanders, and, through programs designed to encourage the search for meaning behind America and deepen engagement in civic life, the Commission will seek to engage youth, new Americans, and life-long learners. Moreover, the Commission charge includes acknowledgement that the confiscation of indigenous land and displacement of indigenous people is central to the origin of the United States, and recognition of the persistence and contributions of these communities today. It also is to honor the legacy of both free and enslaved African Americans in the making of Maryland and the nation.
In celebrating service to country and community, the Commission will create opportunities that promote social responsibility, compassion, and understanding to unite and strengthen Maryland's diverse communities for the benefit of all.
Authorization for the Commission ends December 31, 2027.
---
Search the Manual
e-mail: mdmanual@maryland.gov
© Copyright December 04, 2023 Maryland State Archives