MARYLAND CYBERSECURITY COORDINATING COUNCIL
Chair: John C. Evans, State Chief Information Security Officer
---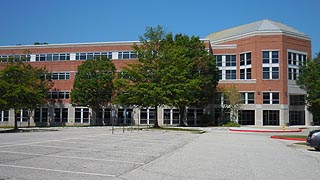 Ex officio: Maj. Gen. Timothy E. Gowen, Adjutant General; Walter F. (Pete) Landon, Director, Governor's Office of Homeland Security; David R. Brinkley, Secretary of Budget & Management; Ellington E. Churchill, Jr., Secretary of General Services; Robert R. Neall, Secretary of Health; Lourdes R. Padilla, Secretary of Human Services; Michael G. Leahy, Secretary of Information Technology; Robert L. Green, Secretary of Public Safety & Correctional Services; Col. William M. Pallozzi, Secretary of State Police; Pete K. Rahn, Secretary of Transportation; Russell J. Strickland, Director, Maryland Emergency Management Agency.

100 Community Place, Crownsville, Maryland, July 2016. Photo by Diane F. Evartt.

---
c/o Office of Security Management
Department of Information Technology
100 Community Place, Crownsville, MD 21032
(410) 697-9388
e-mail: john.evans1@maryland.gov

In June 2019, the Maryland Cybersecurity Coordinating Council was authorized by the Governor (Executive Order 01.01.2019.07).

The Council advises and makes recommendations to the State Chief Information Security Officer on strategy and implementation of cybersecurity initiatives and recommendations. Further, it provides advice and recommendations for building and sustaining the State's capability to identify, mitigate, and detect cybersecurity risk, as well as how to respond to and recover from cybersecurity-related incidents.

Eleven ex officio members constitute the Council, which is chaired by the State Chief Information Security Officer, who heads the Office of Security Management within the Department of Information Technology.
---
© Copyright September 13, 2019 Maryland State Archives