MARYLAND WINE & GRAPE PROMOTION COUNCIL
---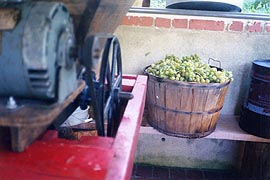 Ex officio: Joseph Bartenfelder, Secretary of Agriculture; David R. Brinkley, Secretary of Budget & Management; R. Michael Gill, Secretary of Commerce.

Staff: Karen M. Fedor

Grapes in basket & grapepress, Dunkirk, Calvert County, Maryland. September 2005. Photo by Diane F. Evartt.

---
c/o Office of Marketing, Animal Industries, & Consumer Services
Department of Agriculture, Wayne A. Cawley, Jr. Building
50 Harry S Truman Parkway, Annapolis, MD 21401 - 8960
(410) 841-5773
e-mail: karen.fedor@maryland.gov

The Maryland Wine and Grape Promotion Council was authorized in July 2005 (Chapter 320, Acts of 2005). With the advice of the Governor's Advisory Commission on Maryland Wine and Grape Growing, the Council recommended to the Board of Public Works how grants from the Maryland Wine and Grape Promotion Fund shall be allocated to nongovernmental organizations (Code Agriculture Article, sec. 2-1101 through 2-1103).

Authorization for the Council was repealed effective July 1, 2017 (Chapter 104, Acts of 2017).
---
Search the Manual
e-mail: mdmanual@maryland.gov
© Copyright March 14, 2022 Maryland State Archives