TASK FORCE TO STUDY THE MARYLAND ORPHANS' COURTS
Eric S. Wargotz, M.D., Chair (chosen by Governor)
---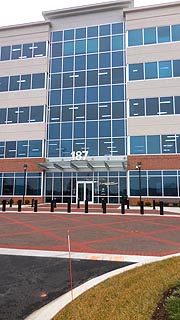 Appointed by Governor: Athena Malloy Groves

Appointed by Senate President: Ronald L. Watson; Christopher R. West.

Appointed by House Speaker: Vanessa E. Atterbeary; Jason C. Buckel.

Appointed by Maryland Bar Association: Allan J. Gibber, Esq.

Appointed by Register of Wills Association: Paul G. Zimmerman

Staff: Dawn Ellison
c/o Government Relations & Public Affairs Division
Administrative Office of the Courts, 187 Harry S Truman Parkway, Annapolis, MD 21401
(410) 260-1523
e-mail: dawn.ellison@mdcourts.gov

Maryland Judicial Center, 187 Harry S. Truman Parkway, Annapolis, Maryland, February 2020. Photo by Diane F. Evartt.

---
In July 2021, the Task Force to Study the Maryland Orphans' Courts was formed by the General Assembly (Chapter 525, Acts of 2021).
The Task Force charge was to examine the composition and function of orphans' courts in Maryland, and compare the differences between orphans' courts in each jurisdiction in the State. Further, the Task Force was to compare and analyze the role and function of probate courts in other states, and examine any research and best practices for probate courts. Finally, the Task Force made recommendations on how to improve orphans' courts in Maryland.
Authorization for the Task Force ended June 30, 2022.
---
Search the Manual
e-mail: mdmanual@maryland.gov
© Copyright September 07, 2022 Maryland State Archives