GOVERNOR'S COUNCIL ON GANGS & VIOLENT CRIMINAL NETWORKS
Chair (chosen by Governor, 1-year term): Brian L. DeLeonardo, Esq., Carroll County State's Attorney
---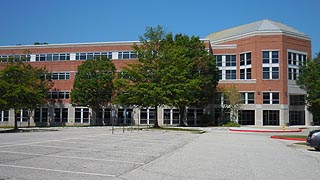 Appointed by Governor to 2-year terms: Wes Adams, Esq.; Troy D. Berry; Barbara L. Duncan; Marilyn J. Mosby, Esq.; Douglas W. Mullendore; Scott D. Shellenberger, Esq.; J. Charles Smith III, Esq.; Henry P. Stawinski III; Gary Tuggle; one vacancy.

Ex officio: V. Glenn Fueston, Jr., designee of Governor; Col. Woodrow W. (Jerry) Jones III, Secretary of State Police; Robert L. Green, Secretary of Public Safety & Correctional Services; Jonathan F. Lenzner, Acting U.S. Attorney for the District of Maryland.

100 Community Place, Crownsville, Maryland, July 2016. Photo by Diane F. Evartt.

---
Staff: Carl J. Kotowski

c/o Governor's Office of Crime Prevention, Youth, and Victim Services
100 Community Place, Crownsville, MD 21032
(410) 697-9333; 1-877-687-9004 (toll free); fax: (410) 321-3116
e-mail: carl.kotowski@maryland.gov
web: http://goccp.maryland.gov/councils-commissions-workgroups/governors-council-on-gangs-and-violent-criminal-networks/
---
Annual Report due Nov. 1 (Executive Order 01.01.2017.30).
---
In December 2017, the Governor's Council on Gangs and Violent Criminal Networks was authorized by the Governor (Executive Order 01.01.2017.30).
Meeting quarterly, the Council provided leadership, policy oversight, and the coordination of operational strategies to collect and share data related to violence and victimization.
To secure the information necessary to prosecute gang-related and racketeer-influenced and corrupt organizations, the Council supported and assisted programs and entities that identify, disrupt, and dismantle gangs and violent criminal networks. It did this through collaboration and comprehensive data sharing, both locally and statewide. Data collected was used to conduct criminal investigations, and for the case management of criminals. Such data only pertained to crime, criminals, or criminal activity; and the law enforcement related to them.
The Council last met in 2019.
---
Search the Manual
e-mail: mdmanual@maryland.gov
© Copyright January 25, 2023 Maryland State Archives