MARYLAND BUSINESS TAX REFORM COMMISSION
---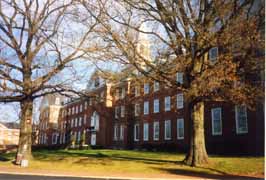 c/o Office of Comptroller of Maryland
Goldstein Treasury Building, 80 Calvert St., Annapolis, MD 21404 - 0466
(410) 260-7450
e-mail: btrc@comp.state.md.us
web: http://btrc.maryland.gov


Goldstein Treasury Building, 80 Calvert St., Annapolis, Maryland. December 2003. Photo by Diane F. Evartt.

---
Raymond S. Wacks, Chair (chosen by Governor)

Appointed by Governor: Carey R. Butsavage; Michael P. Ettlinger; Martin Lobel; Paul Nolan.

Appointed by Senate President: Verna L. Jones; Nancy J. King; Richard S. Madaleno, Jr.

Appointed by House Speaker: Kumar P. Barve; Sheila E. Hixson; one vacancy.

Representative of Greater Baltimore Committee: Steven J. Banks

Representative of Maryland Association of Counties: James F. Kercheval

Representative of Maryland Municipal League: Michael R. Leszcz

Representative of Maryland Chamber of Commerce: Karen Syrylo

Ex officio: Linda L. Tanton, designee of Comptroller of Maryland; T. Eloise Foster, Secretary of Budget & Management; Christian S. Johansson, Secretary of Business & Economic Development; C. John Sullivan, Jr., Director of Assessments & Taxation.

Staff: David F. Roose, Office of Comptroller of Maryland
Marc L. Nicole, Dept. of Budget & Management

On January 1, 2008, the Maryland Business Tax Reform Commission was authorized (Chapter 3, Acts of 2007 Special Session; Chapter 177, Acts of 2008; Chapter 543, Acts of 2010). The Commission reviewed and evaluated Maryland's business tax structure. To provide for fair and equitable taxation for all corporations and other businesses in Maryland, the Commission recommended changes to that structure.

The Commission consisted of nineteen members.

On December 15, 2010, the Commission submitted its report to the Governor and General Assembly.

The Commission was abolished in 2019 (Chapter 6, Acts of 2019).
---
Search the Manual
e-mail: mdmanual@maryland.gov
© Copyright March 14, 2022 Maryland State Archives