WORK GROUP ON THE BALTIMORE SYMPHONY ORCHESTRA
Edward J. Kasemeyer, Chair (chosen by Senate President & House Speaker)


Appointed by Chair, Board of Directors, Baltimore Symphony Orchestra: Christian S. Johansson; Barry F. Rosen, Esq.

Appointed by Chair, Baltimore Symphony Players Committee: Jane Marvin; Gregory Mulligan; Brian Prechtl.

Appointed by President & Chief Executive Officer, Baltimore Symphony Orchestra: Sarah Beckwith; Peter T. Kjome.
---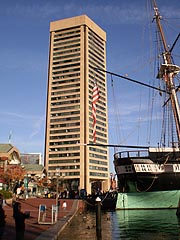 Staff: Kenneth W. Skrzesz

c/o Maryland State Arts Council
Division of Marketing, Tourism, & the Arts
Department of Commerce
World Trade Center Baltimore, 401 East Pratt St., Baltimore, MD 21202 - 3316
(410) 767-6412
e-mail: kenneth.skrzesz@maryland.gov


World Trade Center Baltimore, 401 East Pratt St., Baltimore, Maryland, November 2009. Photo by Diane F. Evartt.

---
In July 2019, the Work Group on the Baltimore Symphony Orchestra was authorized by the General Assembly (Chapter 743, Acts of 2019).
First, the Work Group examined structural efficiencies of the Baltimore Symphony Orchestra, including health care costs for employees and facility usage. Recommendations on cost containment strategies and audience development were made by the Work Group, along with how to diversify access to the Orchestra, and increase statewide public participation with it.
In February 2020, the Work Group submitted its report to the Senate Budget and Taxation Committee and the House Appropriations Committee.
Authorization for the Work Group ended June 30, 2020.
---
Search the Manual
e-mail: mdmanual@maryland.gov
© Copyright March 14, 2022 Maryland State Archives