MARYLAND HUMANITIES
BOARD OF DIRECTORS
Mary L. Hastler, Chair (chosen by Board of Directors)

Appointed by Governor: Mary M. Callis, 2022; Mary L. Hastler, 2022; Ronald E. (Pete) Lesher, Jr., 2023; Julia S. Madden, 2023.

Appointed by Council to 3-year terms: Mary Kay Finan, Ed.D.; Tiffany McGhee; Jeanne Pirtle; Jennifer Shea. Terms expire 2021.

James Cornelsen; Ronald Nowaczyk; Randy Ontiveros; Maarten L. Pereboom, Ph.D.; Cynthia Raposo, Esq.; Thomas B. Riford; Carmel Roques; Sharon Whitney; Allyson Black Woodson. Terms expire 2022.

Chanel Compton; Mark Irwin; Alicia Jones McLeod; Heather L. Mitchell, Esq.; Soo Park, M.D.; Nancy Rogers, Ph.D.; Saima A. Sitwat; Guffrie M. Smith, Jr.; Keith Stone. Terms expire 2023.

Kendra Brown; Tiffany McGhee; Kimberly Moffitt, Ph.D.; Jeanne Pirtle; Jennifer Shea. Terms expire 2024.
---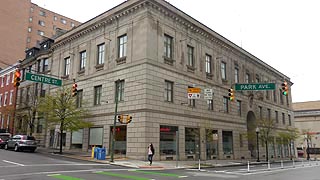 Lindsey Baker, Executive Director

108 West Centre St., Baltimore, MD 21201 - 4565
(410) 685-0095; fax: (410) 685-0795
e-mail: info@mdhumanities.org
web: www.mdhumanities.org/

108 West Centre St., Baltimore, Maryland, April 2019. Photo by Diane F. Evartt.

---
In 1974, Maryland Humanities formed as the Maryland Committee for the Humanities and Public Policy in response to the federal law creating the National Endowment for the Humanities (P.L. 89-209). The Committee reformed in 1983 as the Maryland Humanities Council, and again in 2016 as Maryland Humanities.
The humanities include archaeology; comparative religion; ethics; history; jurisprudence; literature; philosophy; and the history, criticism, and theory of the arts and related social sciences.
Maryland Humanities creates and supports educational experiences in the humanities that offer Marylanders the chance to embrace lifelong learning, exchange ideas openly, and enrich their communities. Through its programs and grants, the organization encourages public dialogue that interprets human experience, promotes cross-cultural understanding, explores human values, and connects people to the wider world.
A private, nonprofit Maryland corporation, Maryland Humanities is funded by the federal government, the State Department of Education, the Maryland Historical Trust, and by foundations, corporations, and individuals.
The Governor appoints up to six of the twenty-four volunteer members of the Board of Directors.
---
Search the Manual
e-mail: mdmanual@maryland.gov
© Copyright March 25, 2022 Maryland State Archives