---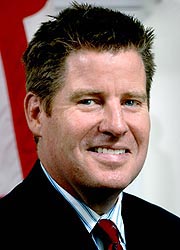 MICHAEL R. ENRIGHT
Chief of Staff, 2007-09
Senior Advisor to Governor, 2009-10

Senior Advisor to Governor, September 2, 2009 to February 1, 2010. Chief of Staff, Office of Governor, January 17, 2007 to September 2, 2009.

Member, Maryland Chapter, Campaign to Fix the Debt, 2012-.

Executive assistant to Attorney General, 1991-98.

Legislative director for U.S. Representative Benjamin L. Cardin, 3rd Congressional District, Maryland, 1998-99.

Michael R. Enright, Annapolis, Maryland, 2009. Photo by Richard Lippenholz.

---
First Deputy Mayor, Baltimore City, 1999-2006. Member, Maryland Stadium Authority, 2000-04.

Born in Washington, DC, 1963. Attended Gonzaga College High School, Washington, DC; Tulane University, B.A. (English), cum laude, 1985; John F. Kennedy School of Government, Harvard University, M.P.A. (public administration), 1997. Former newspaper reporter and freelance writer. Managing Director, Beowulf Energy, 2010-. Married, three children.
---
Search the Manual
e-mail: mdmanual@maryland.gov
© Copyright March 11, 2022 Maryland State Archives