---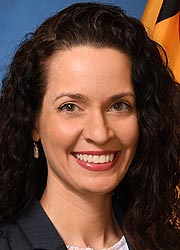 ALLISON S. MAYER, Deputy Chief of Staff
---
Deputy Chief of Staff, Office of Governor, since February 13, 2019. Responsible for oversight of Board of Public Works, Office of Secretary of State, and four departments: Commerce, General Services, Information Technology, and Transportation; as well as State Department of Assessments and Taxation, Property Tax Assessments Appeal Board, and Maryland Stadium Authority. Moreover, the Governor's Coordinating Offices are overseen here, including Governor's Office of Community Initiatives, Office of the Deaf and Hard of Hearing, Governor's Office of Performance Improvement, and Office of Small, Minority, and Women Business Affairs.

Member, Housing Finance Review Committee, 2021-.

Managing Director, Marketing and Communications, Department of Commerce, 2015-19.

Manager of Public Relations, South Carolina Ports Authority, 2012-13. Director, Marketing and Communications, South Carolina Department of Commerce, 2013-15.

University of South Carolina, B.A. (public relations), 2004.
---
© Copyright August 24, 2021 Maryland State Archives