---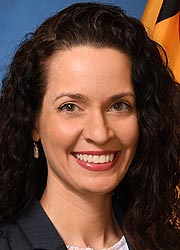 ALLISON SKIPPER MAYER
Deputy Chief of Staff, 2019-23

Deputy Chief of Staff, Office of Governor, February 13, 2019 to January 18, 2023. Responsible for oversight of Board of Public Works, Office of Secretary of State, and four departments: Commerce, General Services, Information Technology, and Transportation; as well as State Department of Assessments and Taxation, Property Tax Assessments Appeal Board, and Maryland Stadium Authority. Moreover, the Governor's Coordinating Offices are overseen here, including Governor's Office of Community Initiatives, Office of the Deaf and Hard of Hearing, Governor's Office of Performance Improvement, and Office of Small, Minority, and Women Business Affairs.

Member, Housing Finance Review Committee, 2021-23. Chair, Governor's Subcabinet on Infrastructure, 2022-23.

Managing Director, Marketing and Communications, Department of Commerce, 2015-19.

---
Public Relations Associate, 2004-11, and Manager, Public Relations, 2012-13, South Carolina Ports Authority. Director, Marketing and Communications, South Carolina Department of Commerce, 2013-15.

University of South Carolina - Columbia, B.A. (public relations), 2004. Assembly Delegate, South Carolina Chapter, Public Relations Society of America, 2013-15. Committee member, South Carolina International Trade Conference, 2013-15. Executive Director, Maryland Marketing Partnership, 2015-19. Senior Advisor, Womble Bond Dickinson, LLP, 2023-.
---
Search the Manual
e-mail: mdmanual@maryland.gov

This web site is presented for reference purposes under the doctrine of fair use. When this material is used, in whole or in part, proper citation and credit must be attributed to the Maryland State Archives. PLEASE NOTE: The site may contain material from other sources which may be under copyright. Rights assessment, and full originating source citation, is the responsibility of the user.
---
Tell Us What You Think About the Maryland State Archives Website!
---
© Copyright March 22, 2023 Maryland State Archives