GOVERNOR'S OFFICE OF IMMIGRANT AFFAIRS
---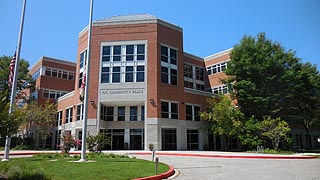 Lorena G. Rivera, Director


100 Community Place
Crownsville, MD 21032
(410) 697-9277
e-mail: lorena.rivera@maryland.gov


100 Community Place, Crownsville, Maryland, July 2016. Photo by Diane F. Evartt.

---
Annual Report to Governor & General Assembly due June 15, beginning 2022 (Chapter 675, Acts of 2021; Code State Government Article, sec. 9–3304).
---
In October 2021, the Governor's Office of Immigrant Affairs was authorized by the General Assembly (Chapter 675, Acts of 2021; Code State Government Article, secs. 9–3301 through 9–3304).
The charge of the Office is to establish a network of neighborhood-based opportunity centers that provide immigration services. It will assist immigrants in matters relating to immigration status, including assistance with the naturalization process, and applications for Deferred Action for Childhood Arrivals (DACA). It also will work to increase access to English to Speakers of Other Languages (ESOL) programs by engaging nonprofit organizations and other program providers.
Through the Office, immigrants will be connected to business resources that use immigrant skills; employment referral programs; and other workforce development programs. The Office also is to develop and leverage immigrants' skills to benefit immigrant communities and the State; strengthen the connection between immigrants and the immigrants' communities through civic engagement; and reduce exploitation of immigrants.
The head of the Office is the Director, who is appointed by the Governor.
---
Search the Manual
e-mail: mdmanual@maryland.gov
© Copyright March 14, 2022 Maryland State Archives