DIRECTOR
---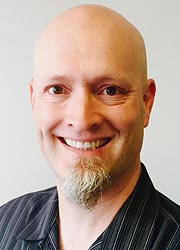 KELBY N. BRICK, Esq., Director
Office of the Deaf & Hard of Hearing
100 Community Place, Crownsville, MD 21032 - 2023
(443) 453-5761; 1-800-201-7165 (Maryland Relay)*; fax: (410) 333-1016; tty: (410) 767-7756
*(hearing callers use Maryland Relay 1-800-201-7165 or 7-1-1)
e-mail: kelby.brick@maryland.gov
web: www.odhh.maryland.gov
---
Director, Governor's Office of the Deaf and Hard of Hearing, since July 1, 2015.

Member, Interagency Committee on Aging Services, 2015-; Behavioral Health Advisory Council, 2015-; Interagency Disabilities Board, 2015-; State Coordinating Committee for Human Services Transportation, 2015-.

Member, Governor-Elect's Transition Team, 2006-07.

Gallaudet University, B.A. (government), 1994; James E. Beasley School of Law, Temple University, J.D., 1997. Law clerk to Judge Kenneth Clouse, Pennsylvania Court of Common Pleas, 1995-96. Attorney. Certified Deaf Interpretor (CDI). Founder & attorney, Brick Law Office, 1999-2004. Director, Law and Advocacy Center, National Association of the Deaf, 2002–06 (legal counsel, 1997-2000). Vice-President, Regulatory and Strategic Policy, Go America, 2006–13. Vice-President, Regulatory and Strategic Policy, Purple Communications, Inc., 2006-13. Founder, Brick Advantage, 2013-15. Board of Directors, American Association of People with Disabilities; Maryland Association of the Deaf. Co-author, Legal Rights: The Guide for Deaf and Hard of Hearing People, 5th ed. (2000). Outstanding Young Alumnus Award, Gallaudet University Alumni Association, 2006. Kelby Brick Community Leadership Award, Governor of Maryland, 2011. Disability Advocate Award, Baltimore County Commission on Disabilities, 2011. Leadership in Law Award, Daily Record, 2019.
---
© Copyright March 27, 2019 Maryland State Archives