STATE PARK INVESTMENT COMMISSION
Parris N. Glendening, Chair
---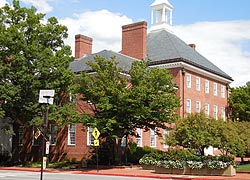 Staff: Andrew D. Gray; e-mail: andrew.gray@mlis.state.md.us
Jeremy P. Baker; e-mail: jeremy.baker@mlis.state.md.us

c/o Department of Legislative Services
Legislative Services Building, 90 State Circle, Annapolis, MD 21401
(410) 946-5530, (301) 970-5510; 1-800-492-7122, ext. 5530 (toll-free)


Legislative Services Building, 90 State Circle (from Bladen St.), Annapolis, Maryland, July 2014. Photo by Diane F. Evartt.

---
The Senate President and House Speaker created the State Park Investment Commission in August 2021.

The Commission will make recommendations on the need for new parks in "recreational deserts", and determine whether existing parks are accessible to certain populations, such as low-income Marylanders, those without a car, and persons with disabilities.

Moreover, the Commission will investigate and make recommendations regarding overcrowding in Maryland State parks, and the need for new State park offerings. It will consider the adequacy of existing State park facilities to meet demand for recreational opportunities in the State; levels of operating funding and staff for existing State parks, and the need for capital funding to provide a high-quality experience to park visitors.
---
Search the Manual
e-mail: mdmanual@maryland.gov
© Copyright March 14, 2022 Maryland State Archives