---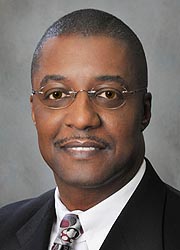 TONY KNOTTS
Democrat, District 26, Prince George's County
Member of House of Delegates, January 14, 2015 to January 9, 2019. Member, Environment and Transportation Committee, 2015-19 (local government & bi-county agencies subcommittee, 2015-19; natural resources, agriculture & open space subcommittee, 2015-17; housing & real property subcommittee, 2017-19). Member, Law Enforcement Committee, Prince George's County Delegation, 2017-19 (bi-county committee, 2015-16). Member, Legislative Black Caucus of Maryland, 2015-19; Maryland Veterans Caucus, 2015-19.

---
Member, County Council, Prince George's County, representing District 8, May 21, 2002 to December 6, 2010 (vice-chair, 2002-03; chair, 2003-04). Vice-Chair, Planning, Zoning and Economic Development Committee, 2009-10. Vice-Chair, Transportation, Housing and the Environment Committee, 2009-10. Member, Health, Education and Human Services Committee, 2006-07; Public Safety and Fiscal Management Committee, 2006-09 (chair, 2006-07, 2008; vice-chair, 2008-09); Public Safety and Transportation Committee, 2007-08. Chair, Education, Human Services and Human Resources Committee, 2007-08.

Member, Board of Health, Prince George's County, 2002-10. Board of Directors, Metropolitan Washington Council of Governments, 2006-08. Council liaison to Health Department, Prince George's County, 2006-10.

Born in Danville, Virginia, May 12, 1951. Attended Fairmount Heights High School, Capitol Heights, Maryland; Bowie State University, B.A. (political science), 1977, M.A. (administrative management), 1983; University of Maryland, College Park, M.A. (public policy), 1992. Served in U.S. Marine Corps. Management support specialist, strategic planner, Washington Suburban Sanitary Commission, 1978-2010. Member, Gordon Corner's Citizens Association; South County Economic Development Association; Prince George's County Leadership Development Forum; Coalition of Concerned Black Christian Men. Past president, Prince George's County Young Democrats. Member, Ebenezer African Methodist Episcopal Church, Fort Washington, Maryland. Married.
---
Search the Manual
e-mail: mdmanual@maryland.gov
© Copyright March 11, 2022 Maryland State Archives