---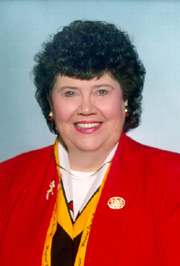 LOUISE V. SNODGRASS (1942-2009)
Republican, District 3, Frederick & Washington Counties
Member of House of Delegates, January 11, 1995 to January 8, 2003. Member, Commerce and Government Matters Committee, 1995-2003 (procurement subcommittee, 1995-98; financial institutions subcommittee, 1999-2003; ethics & election laws subcommittee, 2002-03); Joint Committee to Study Mandates on Local Government, 1995-97; Joint Committee on Protocol, 1999-2003. Chair, Frederick County Delegation, 2000-03 (vice-chair, 1997, 1999). Member, Women Legislators of Maryland, 1995-2003.

---
Burgess (mayor), Town of Middletown, 1988-94. Member, Task Force on Funding for the Maryland School for the Deaf, 1996; Maryland Civil War Heritage Commission, 1996-99; Executive Board, Forvm for Rural Mayland, 1997-2003; Advisory Board, Institute for Governmental Service, University of Maryland, College Park, 1997-2003 (secretary/treasurer, 1997-2003). Member, Local Management Board, Office for Children and Youth, Washington County, 1997-2003; Advisory Board, Community Action Agency, Frederick County, 1998-2003; School Services Advisory Board, Community Agency, Frederick County, 1998-2005; Task Force on the South Mountain Battlefield Historic Tourism Initiative, 1999-2000; Health and Safety Committee, Frederick County Commission on Aging, 2000-03.

Born in Baltimore, Maryland, June 28, 1942. Frederick Community College (pre-hygiene program); University of Maryland Dental School (for certification as dental assistant). Dental assistant (nationally board-certified), 1969-94. Member, Maryland Dental Assistants Association, 1979-85 (past-president). Trustee, American Dental Assistants Association, 1980-83. Member, Frederick County Republican Central Committee, 1986-94 (past secretary & vice-chair); Frederick County Republican Men's Club; Republican Women's Club of Frederick County; Washington County Republican Club. Member, Frederick Chapter, Maryland Municipal League, 1989-2003 (past president, vice-president, & secretary-treasurer; subcommittee on annexation, 1992; liaison to transportation services advisory committee, Frederick County, 1990-94). President, Frederick County Council of Government, 1991-93. Board of Directors, Maryland Mayors Association, 1991-94. Breast Cancer Support Spokesperson, Y-Me of the Cumberland Valley, 1999. Member, Frederick County Community Cancer Coalition, 2000-03; Frederick County Even Start Advisory Board, 2000-03. Life member, Middletown Historical Society. Past member, J. Elmer Harp Medical Center, Inc., Association; Frederick Memorial Hospital Auxiliary. Outstanding Legislator of the Year, Maryland Municipal League, 1995. Awards for support of municipal priorities, Maryland Municipal League, 1996, 1997, 1998, 1999, 2000. Appreciation Award, Maryland School for the Deaf, 1997. Senator Idamae Garrott Award, American Council of the Blind, 1997. Friend of Rural Water Award, Maryland Rural Water Association, 1999 (award name changed to Louise V. Snodgrass Award in 2000). Appreciation Award, Civil War Medical Museum, 2000. Distinguished Alumni Award, Frederick Community College, 2000. Maryland's Top 100 Women, Daily Record, 2001. Married; two children. Died in Dover, Delaware, June 12, 2009.
---
Search the Manual
e-mail: mdmanual@maryland.gov
© Copyright March 11, 2022 Maryland State Archives