---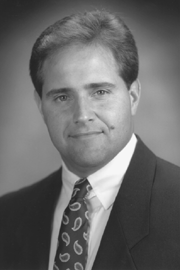 PHILLIP D. BISSETT
Republican, District 30, Anne Arundel County
Member of House of Delegates, 1991-99, representing District 30 (Anne Arundel County). Member, Judiciary Committee, 1991-99 (gaming [gambling] law & regulation subcommittee); Joint Committee on Federal Relations, 1994-99. Chair, Anne Arundel County Delegation, 1995-99. Member, Southern Legislative Conference (federal pre-emption/state affairs committee). Maryland Vice-Chair, American Legislative Exchange Council, 1997-99 (member, civil justice task force; criminal justice task force).
Member, Intergovernmental Relations Committee, County Executive's Transition Team, Anne Arundel County, 1990. Member, State Commission on the Capital City, 1991-92; Citizens Advisory Committee for the Transportation Functional Master Plan, Anne Arundel County, 2011-. Past member, South County Environmental Commission.

---
Born in Bethesda, Maryland, September 11, 1956. Attended Southern Senior High School; Anne Arundel Community College. Director, Maryland Rail Commuter (MARC) Train and Commuter Bus Service, 2004-05. Former self-employed small business owner. Delegate, Republican Party National Convention, 1992, 1996. Co-Chair, Anne Arundel County Bush/Quayle Campaign, 1992. Member, Anne Arundel County Republican Central Committee, 1990. Member, Loch Haven Civic Association; Mayo Civic Association; Southern District Police and Community Relations Council. Past member, Young Republicans of Anne Arundel County. Legislator of the Year, State's Attorneys' Association, 1994. Legislator of the Year, Judiciary Committee, Maryland Chamber of Commerce, 1997. Married; three children.
---
Search the Manual
e-mail: mdmanual@maryland.gov
© Copyright March 11, 2022 Maryland State Archives