---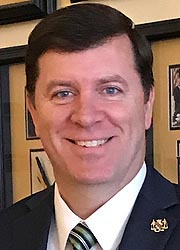 BRYAN W. SIMONAIRE
Republican, District 31, Anne Arundel County
James Senate Office Building, Room 320
11 Bladen St., Annapolis, MD 21401
(410) 841-3658, (301) 858-3658
1-800-492-7122, ext. 3658 (toll free)
e-mail: bryan.simonaire@senate.state.md.us
fax: (410) 841-3586, (301) 858-3586
---
Member of Senate since January 10, 2007 (first Republican Senator elected from District 31). Minority Leader, 2020-. Member, Education, Health and Environmental Affairs Committee, 2011- (health occupations subcommittee, 2011-14; labor, licensing, & regulation subcommittee, 2011-14; environment subcommittee, 2015-18; health subcommittee, 2019; chair, alcohol subcommittee, 2019-); Joint Committee on the Chesapeake and Atlantic Coastal Bays Critical Areas, 2011-; Legislative Policy Committee, 2020-; Joint Committee on Children, Youth, and Families, 2020-; Spending Affordability Committee, 2020-; Executive Nominations Committee, 2021-. Member, Judicial Proceedings Committee, 2007-10; Work Group to Review Disclosure Requirements of the Public Ethics Law, 2012-13; Senate Special Committee on Ethics Reform, 2012-13. Co-Chair, Protocol Committee, 2015. Member, Maryland Legislative Sportsmen's Caucus, 2007-; Maryland Veterans Caucus, 2007-; Taxpayers Protection Caucus, 2008-.

Member, Governor's Family Violence Council, 2008-17; Health and Human Services Referral Board, 2017-18; Maryland Cybersecurity Council, 2017-.

Born in Baltimore, Maryland, September 6, 1963. Bob Jones University, B.S. (computer science), 1985; Loyola College, M.S. (engineering science), 2005. Member, Upsilon Pi Epsilon (computer science honor society), 1993-. Senior systems engineer, Northrop Grumman Corp., 1995-. Computer systems engineer, Westinghouse, 1985-94. Founder of Heroes-at-Home, 2002-. Board of Directors, North County Republican Club, 2005-06. Member, Pasadena Kiwanis, 2007-. Member, Chesapeake Bay Foundation; National Rifle Association. Legislative Squadron, Civil Air Patrol, Maryland Wing, 2009. Delegate, Republican Party National Convention, 2012. Creator of Simonaire Santas for abused children. Legislator of the Year, American Legion Department of Maryland, 2019. Married, seven children.
---
© Copyright January 15, 2021 Maryland State Archives